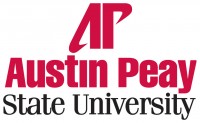 Clarksville, TN – Every day, hundreds of people from across the country arrive at the Nashville International Airport, and, shortly after getting off the plane, among the first things they see in Tennessee are the innovative and highly-stylized ceramic sculptures by artist Ken Shipley.
That's because Shipley, an Austin Peay State University associate professor of art, is among only a handful of artists from across the state to have his work exhibited at the airport as part of the "Flying Solo Series: Winter 2011." The exhibit is part of Arts at the Airport, which is funded by the Metropolitan Nashville Airport Authority and the Tennessee Arts Commission.
The show runs until March 6th, but earlier this month, local art enthusiasts were treated to an unprecedented art reception with the artists in the normally prohibited viewing space beyond the security checkpoints. Guests still had to undergo security screening, and they were not allowed to bring items prohibited by the Transportation Security Administration.
Shipley has worked in ceramics for 30 years and began his career as an apprentice to both Charles Counts in Rising Fawn, GA, and Bill Ashley in Chattanooga. Shipley's work covers many aspects of ceramics, from production pottery to large, one-of-a-kind vessel pieces, both wheel thrown and hand built. He uses high fire reduction, salt/soda, wood fire and electric kilns. He holds a Bachelor of Arts degree in religious studies and a Master of Fine Arts degree from the University of Tennessee in Knoxville.
For more information on the exhibit at the Nashville International Airport, contact Shipley at 931-221-7325.