APSU Men's Baseball

Jonesboro, AR – Austin Peay's baseball team begins a long stretch away from home when it meets Sun Belt Conference member Arkansas State in a three-game weekend series, beginning with a 6:00pm, Friday contest at Tomlinson Stadium. The two squads will play a 4:00pm, Saturday contest followed by a 1:00pm, Sunday series finale.
The Govs (7-4) have stumbled in their last four games, posting a 3-4 mark. All aspects of Austin Peay's attach have struggled during the stretch. The offense is batting just .297 but still averaging 7.9 runs per game. The Govs pitchers are surrendering a 5.84 ERA but of more concern is their collective 7.3 walks per game they have issued during the stretch.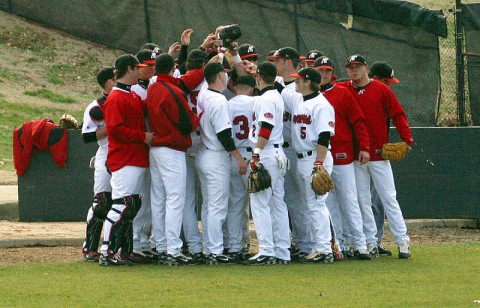 Individually, the Govs freshman duo of second baseman Jordan Hankins and outfielder Rolando Gautier have impressed early on. Hankins has raced out to a .590 average after going hitless for the first time this season, Wednesday, against South Dakota State. Gautier has nine extra-base hits during his current 10 game hit streak, including his first collegiate home run, Wednesday.
However, Austin Peay's old guard has not remained silent either. Junior outfielder Michael Blanchard is second on the team with a .448 batting average and has a nine-game hit streak entering the weekend. Sophomore first baseman John Hogan has been on a tear in the Govs last five games, batting .474 with 10 RBI.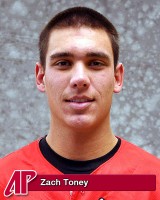 On the mound, the Govs will turn to a trio of left-handers – sophomore Zach Toney, senior Jack Snodgrass and junior Jeremy Dobbs – to start the weekend's three games.
Toney will get the weekend started for APSU with two starts under his belt, including his season's first victory against Eastern Michigan, March 4th.
Snodgrass returns to the mound after an impressive outing at Mississippi, March 1st, where he struck out seven over 6.2 innings while allowing just one run before the bullpen surrendered the lead late.
Dobbs is penciled in for his season's first start after making three relief appearances this season.
Arkansas State (6-8) is amidst a eight-game home stand and has won their last two outings, including a 6-5 victory against Missouri State, Wednesday. The Red Wolves are 2-0 against Ohio Valley Conference teams this year, winning a pair of midweek contests against Murray State earlier this season.
Ryan Emery leads Arkansas State's offense with a .425 batting average but is just one of two players batting over .300 this season. The Red Wolves offense has gotten off to a slow start, with a team .247 batting average while scoring just 4.2 runs per game.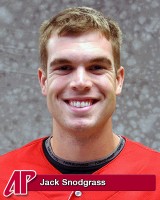 The Red Wolves strength lies with its pitching staff which enters the weekend with a 4.15 ERA and 105 strikeouts against a stingy 40 walks (2.9 per game). Friday's starter Andy Ferguson will make his third start this season after averaging only 5.5 innings pitched in his first two outings.
 Jacob Lee, Saturday's starter, has been ASU's hard-luck hurler with an 0-2 mark despite a 3.00 ERA and 19 strikeouts in 18.0 innings pitched. Sunday starter Brad Allen has two of the team's six wins this season and holds a 3.72 ERA in 19.1 innings pitched.
Notes From The Week That Was
Austin Peay split a pair of contests with South Dakota State, winning 10-7 on Tuesday before dropping a 4-2 contest Wednesday. Junior outfielder Michael Blanchard and sophomore first baseman John Hogan each had four hits. Hogan batted .444 with three RBI, a triple and a home run. Blanchard also had a triple and three stolen bases. 
Freshman second baseman Jordan Hankins had two hits Tuesday before being held hitless Wednesday and ending his 10-game hit streak. APSU's defense committed four errors in the two-game set, allowing six unearned runs. The Govs pitching staff posted a 4.50 ERA with 17 strikeouts in 18 innings, but also walked 11 and hit three batters.
Coming Up: Tennessee
The Govs return to Raymond C. Hand Park and host Tennessee in their only home game in the upcoming stretch of 12 games. Austin Peay won the previous meeting between the two teams, 5-3, in Knoxville during the 2009 season.