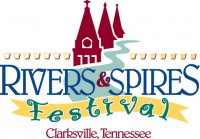 Clarksville, TN – This year during the Rivers & Spires Festival, make your way to the Madison Street United Methodist Church and take in the amazing Quilts of the Cumberland display.
The exhibit will take place all three days of the festival, April 14th-16th. The show will display local artisans with a variety of quilts from traditional to one of a kind art quilts.  Quilting is a centuries old art form where the quilters use colors, shapes and their creativity to express themselves through the use of fabrics, various textiles and embellishments. Quilting is still a tradition in many households. According to the Quilters Newsletter study, Quilting in America 2010, there are 21 million quilters in the US and 14 percent of US households are home to one active quilter.
An event sure to entertain and open people up to a whole new art form, Wanda Morrison said, "I would love for everyone to come out and support the Quilts of the Cumberland."
The Quilts of the Cumberland is also hosting a Trunk Show on Thursday, April 14th at the Madison Street United Methodist Church at 6:00pm. Jean Shaw will be presenting a lecture and quilt trunk show entitled "Scrappy and Loving It!" with an array of quilts from the turn of the 20th century to the present. Shaw will share many of her own quilts and stories of her love of scrap quilting. She is a fourth generation quilter, and has always had a love affair with fabric and an attitude of, the more the better.
For those interested in their quilt becoming part of the show, entries for The Quilts of the Cumberland Show are being accepted online through April 6th, 2011. The event is open to the public and information, instructions and applications can be found online at www.riversandspires.com. There are also some great prizes for those who wish to enter their handy work into the contest. Prizes include $100.00 for first place and $50.00 for second place in each of the three categories: Bed Quilt, Art/Wall Quilt, and Miniature Quilt. The Best of Show will walk away with a $200.00 prize.
In addition to the Quilts of the Cumberland exhibit at the church, the evening of the 14th will present the award-winning Patchwork Premiere event. Refreshments at Planters Bank from 4:00pm to 5:00pm, staged entertainment, make-and-take crafts and a quilt giveaway are among the many activities planned this year. Patchwork Premiere will take place at Hiter and Commerce Street.
The 9th annual Rivers & Spires Festival will be held in downtown Clarksville. This event has six stages of entertainment with over 100 entertainers performing all three days. From children's activities, arts & crafts, car shows, military exhibits, jazz and wine, shopping and so much more this is truly an event for the whole family. Admission to the festival is free including all games, activities and concerts. Applications are still being accepted for sponsors and/or vendors.
For more information about Rivers & Spires visit www.riversandspires.com