Nashville Pitchers Lower Team ERA To 2.08 For Season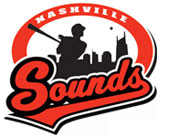 Nashville, TN – The Nashville Sounds continued their winning ways on Wednesday afternoon at Greer Stadium, posting a 6-1 victory over the Oklahoma City RedHawks in the third game of a four-game series.
With the win, the Sounds (5-2) notched a winning record during their opening homestand, which concludes tomorrow evening.
Nashville pitchers permitted just one unearned run in the contest to lower the team's ERA to 2.08 through seven games of action. In all five of the Sounds' victories, they have held the opposition to exactly one run.
Oklahoma City took a 1-0 lead in the second inning with an unearned run off right-hander Mark Rogers, the Milwaukee Brewers' top prospect, who made his second start of the year for the Sounds. With one out, Nashville center fielder Brett Carroll dropped a fly ball hit by Tommy Manzella, who scored one batter later on a fielder's choice RBI grounder from Anderson Hernandez.
Rogers allowed just the one unearned run on three hits over his 5 1/3 innings and took a no-decision in his third career Triple-A start. He walked four batters and struck out three, throwing 97 pitches (50 strikes).
Nashville – which failed to score after having a one-out, bases-loaded opportunity in the fourth – rallied to take a 2-1 lead in the bottom of the sixth against Oklahoma City starter Sergio Perez, taking advantage of a double error on RedHawks third baseman Oswaldo Navarro.
After Brendan Katin flew out to open the inning, Brett Carroll hit a routine ground ball to third, which was bobbled by Navarro. Then, the infielder tried to glove scoop the ball back to the pitcher and misfired past the home plate circle, allowing a hustling Carroll to reach third on the play. Brandon Boggs followed with a game-tying single to right as Carroll scored in unearned fashion. Catcher Martin Maldonado (3-for-4) followed with a go-ahead double to right that plated Boggs for a 2-1 advantage.
The Sounds padded their cushion against the Oklahoma City bullpen in the sixth, plating four runs to extend the lead to 6-1.
Carroll's one-out, bases-loaded bloop single to shallow left-center off Ross Wolf plated a pair of runs. Carroll (1-for-3) has hit safely in six of Nashville's seven contests this season. Boggs (2-for-3) followed with an RBI single through the right side of the infield.
The final run of Nashville's four-run sixth was scored when, with runners at the corners and one out, Maldonado struck out while Boggs broke for second and got caught in a rundown. Carroll again was alert on the basepaths and raced home before the RedHawks' defense applied the tag on Boggs to complete the double play.
Sounds right-hander Tim Dillard (2-0) retired his only two batters faced to record the victory in relief of Rogers. The victory was Dillard's 32nd all-time for the Sounds, moving him to second place in franchise history (trailing Keith Brown's 35 wins).
Perez (0-1) took a hard-luck loss following a quality start for Oklahoma City. The right-hander allowed two runs (one earned) on five hits while striking out seven in his six innings of work.
Nashville third baseman Mat Gamel went 0-for-4 with a walk on the afternoon to bring his team-best four-game hit streak to a close.
The teams wrap up the series with a 7:05pm finale on Thursday evening. Right-hander Josh Butler (1-0, 0.00) will man the bump for the Sounds to face Oklahoma City southpaw Ryan Rowland-Smith, who will make his first Triple-A appearance of the season.
It will be Taco Bell Throwback Thursday at the ballpark. The Sounds will wear their 1980s style retro jerseys on the field, while fans can enjoy discounted pricing on several concessions items ($2.00 hot dogs, $2.00 beers, $2.00 soft drinks, $2 popcorn, $2.00 nachos).