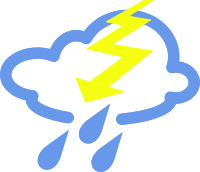 Clarksville, TN – In the aftermath of last nights storm damage reports continue to pour in. Shortly before midnight a line of severe storms moved across our area bringing with it damaging straight-line winds, lightning and hail. hundreds of trees were knocked down with more losing limbs. This caused breaks in power lines knocking out power to 25,000 city residents, with an additional 5,815 homes without power in the county.
Trees were down on Fort Campbell Blvd., Riverside Drive, Ringgold Road, Britton Springs Road, and multiple smaller roads. At one time Britton Springs and Ringgold roads were totally closed by fallen trees. Across Montgomery County 15 homes were damaged including several mobile homes which were cut in two by falling trees.
Wednesday morning's strong storm also felled trees along the Clarksville Greenway, forcing the Clarksville Parks & Recreation Department to temporarily close the shorter of the two trails, from the Pollard Road trail head to Mary's Oak trail head, the longer trail remains open.
The Mousetrap on Fort Campbell Blvd. sustained damage to the flashing with pieces of the tin sheeting scattered all the way across its parking lot and onto Fort Campbell Blvd.
Area Wal-marts issued a code black causing store personnel to bundle customers into safer areas inside the stores to wait out the storms passing. In other businesses employees huddled in the dark waiting for their power to be restored.
Clarksville Police and Fire Departments were kept busy checking on damage reports during the throughout the evening. During a lull in the storm Clarksville Police Officers clambered up on the roof of the Tradewinds North Shopping Plaza on the suspicion that someone had used the power outage to attempt a break in. However after inspection by the officers no signs of trouble were found.
As a result of power outages CMCSS schools are being closed five hours early. This morning 11 area schools were without power.
Woodlawn residents are being asked to conserve water.
Clarksville Online will continue to monitor the situation, and pass along new information as it is made available.
Photo Gallery