Clarksville, TN – The investigation into the shooting at a club on 801 Providence Boulevard has lead Detectives to believe there is a second shooter involved in the early morning shooting . The second shooter is described as a black male, 5'10-6'0, around 215 lbs, short dreads, was wearing a button up brown shirt with vertical stripes, and khaki shorts.
Additionally, it appears as though Dashawn Kelly may have been transported from the scene of the shooting to Summit Heights by an unknown person in a teal colored vehicle and then transferred to another. The other vehicle has already been identified and located, but we are still looking for the teal vehicle.
Kelly was injured when he was transported so the teal vehicle would most likely have blood stains inside.
 
The victim of the shooting, Quintin Dukes, was released from the hospital and booked into Montgomery County Jail.
Quintin Dukes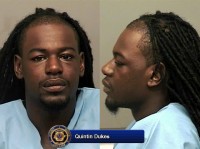 Name: Quintin Dukes (B/M)
DOB: 11/26/86
Given Address: 30 Lincoln Drive Apt. C, Clarksville, TN
Arresting Officer: Michael Ulrey
Charged With: Two Counts of Violation of Probation, Aggravated Assault, Vandalism, Resisting Arrest
Booked Into: Montgomery County Jail
Bond: $4500
 
Anyone with information, please call the TIPSLINE, 931.645.8477.
For more on the story, see: A Man is Charged in an Early Morning Shooting that Sent Two to the Hospital