APSU Sports: Women's Soccer

Clarksville, TN – Two second-half goals were the difference in Austin Peay State University women's soccer team earning a 2-1 win against Belmont, Sunday, at Morgan Brothers Soccer Field.
"It was great second half effort," head coach Kelley Guth said. "We made some adjustments at halftime and came out strong. Some players stepped up big in the second half and changed the game. This is a great positive to build on going into next week."
Sophomore Natalia Ariza scored the game winner in the 79th minute, bending a free kick past the Belmont keeper. The Bruins physical play proved costly when a foul just outside the box gave Austin Peay an indirect kick. Sophomore Emily Kink provided the first touch and Natalia punched it in.
Belmont (2-3) got on the board first when a well-played corner kick set up a header goal by Taylor Smith in the 33rd minute. That was the first half's only goal as Belmont seemingly outplayed Austin Peay in the first 45 minutes. At the break, the Bruins had outshot the Lady Govs, 5-2, while also holding a 3-0 corner-kick advantage.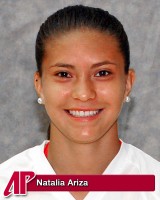 But in the second half, APSU (4-1) came out recharged. As the match became more and more physical between the two in-state rivals, the Lady Govs began to maintain longer possessions and work towards the goal. Tatiana Ariza was taken down in the box and awarded a penalty kick in the 61st minute, with that goal equalizing the game.
"We were a totally different team in the second half," Guth said. "Our goal is to be consistent, but give credit to our players for recognizing that it wasn't getting done in the first half. They made some changes and it swung the momentum."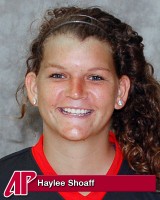 Austin Peay sophomore keeper Haylee Shoaff was outstanding in the final 45 minutes as well. She made five of her six saves in the frame, including a pair of diving stops to keep Belmont in check.
The Lady Govs were outshot for the game, 12-5, but placed three shots on goal. Tatiana had two shots, while Natalia, freshman Morgan Zigelsky, and sophomore Corey Osborn each had one. Smith led Belmont with four shots.
Sunday's win wrapped up a three-match homestand for the Lady Govs, who now get set for a four-match road trip. It all starts with a 4:00pm, Friday match against Troy.