Clarksville, TN – On Saturday September 24th, 2011 there will be a charity soccer match between the Clarksville High Lady Wildcats and the Rossivew Lady Hawks to help raise money for Camp Rainbow. The game will kick off at 7:00pm at Clarksville High School. Admission is only $5.00 with all the proceeds from the gate being donated to Camp Rainbow.
Jeff Major, who is the soccer coach for Clarksville High School, has put this event together along with Bikers who Care and Camp Rainbow. Melinda Kelly-Rich, from Reliant Reality, helped Coach Major organize the event.
Bikers Who care (Camp Rainbows largest supporters) will bring out the game ball on motorcycles just like last year however there will be a moment of silence for those who recently passed away from the BWC at last weekend's tragic event.
This is the second year for the event. The first charity soccer match between these two teams was held October 2nd, 2011 at Rossview High School.
The Head Coach for the Clarksville High Lady Wildcats is Jeff Major. JT Batson is his Assistant Coach. Daniel Paschedag is the Head Coach for the Rossivew Lady Hawks. His Assistant Coach is Danny Chartrand.
The TSSAA officials have donated their time for this event.
Everyone is invited to come out, cheer on these two great teams and help raise money for such a wonderful charity as Camp Rainbow.
For more information, contact Jeff Major at 931.436.5188 or or Melinda D. Kelly-Rich at 931.237.3437 or .
About Camp Rainbow
Camp Rainbow was just a dream of Mary Woodall and Diane Miner — they wanted a camp that would cater to the needs of seriously ill children whose medical problems kept them from attending regular camps.
This dream came true in 1983, and, for one special week in June, volunteers come together at Brandon Springs Group Camp in Land Between the Lakes, to provide the children endless activities. Whether fishing, canoeing, making crafts, or climbing on helicopters flown in from Fort Campbell, Kentucky, these special kids are given the opportunity to do anything they want.
With a one-to-one (or better) camper/counselor ratio, each camper gets to choose which activities and events he or she wants to participate in. An overview of Camp Rainbow with forty campers is like having forty mini-camps operating at the same time in the same location.
The campers are always under the watchful eyes of a fully staffed medical contingent provided by Premier Medical Group of Clarksville, Tennessee. The staff to include doctors, nurses, and the one-on-one counselors are available on a 24-hour basis.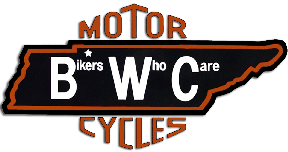 The highlight of the week is the arrival of the Bikers Who Care (BWC), a local motorcycle organization that helps raise money each year to put on Camp Rainbow. This extraordinary group of motorcyclists provide the kids with a parade of Harleys, a carnival, an endless supply of cotton candy, and rides on a Harley Davidson motorcycle. The kids put on a talent show at the end of the day and give gifts to the bikers as an appreciation of what they do.
For more information on Camp Rainbow, visit their website: www.clarksvillecamprainbow.org/