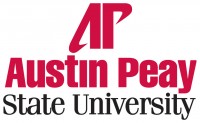 Clarksville, TN – In the spring of 2010, two years into her battle with cancer, Patricia Hancock Richardson reminded her husband, James, of an errand he needed to run.
"She said, 'make sure you get our basketball and football season tickets,'" James Richardson remembered. " She told me, 'We're going to every game.'"
Patricia, known by her friends as Patty, had rooted for the Austin Peay State University Governors since the early 1950s, when she was a varsity cheerleader at the school. In the years that followed, she became a fixture at most home games, cheering on the Governors during good seasons and bad. So that spring, James listened to his wife and bought the tickets. They went unused.
"She passed away that fall, in October 2010," he said recently. "Austin Peay was a great love for her. She was very supportive of it."
James plans to continue his late wife's long legacy of supporting APSU. He recently established the Patricia Hancock Richardson Memorial Scholarship, which when fully endowed will be awarded annually to students from Tennessee or Kentucky who plan to become teachers.
"I wanted to endow this scholarship in her name so that people will always remember who she was," James said. "I'm in the process now of writing her biography, and I hope when the first student receives this scholarship, I will be able to hand them the biography so they'll know the person who helped them with their education."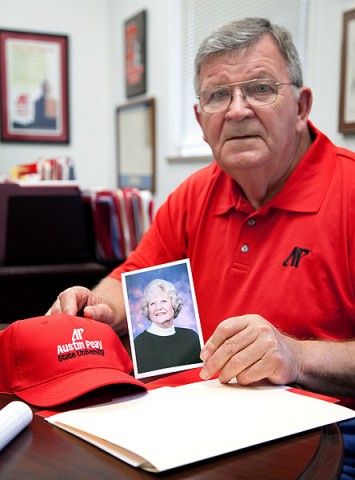 Patty first came to Austin Peay in the early 1950s, after she graduated from Hopkinsville (KY) High School. She pursued a degree in education, but most of her spare time was spent in a varsity cheerleading uniform, which she wore while shouting her support for the Governors. After earning her degree in 1955, she remained on campus and went to work as a secretary for then-Austin Peay President Halbert Harvill.
"During that time, she got her master's degree and graduated in 1966," James said. "From there, she started working in the Clarksville-Montgomery County School System as a teacher out at Ringgold Elementary School."
Her teaching career took her to Northwest High School and later to Clarksville High School, where she worked as a school counselor until she retired. But the cheerleader spirit inside of her never disappeared. Her students knew her as a woman proud to wear the color red, and always eager for the next APSU home game.
"I often said if she could have stopped and gone back in time, she would have gone back to 1955 when she was going to school here because she loved Austin Peay," James said.
Anyone wishing to support this legacy and contribute to the Patricia Hancock Richardson Memorial Scholarship can contact the APSU Advancement Office at 931.221.7127, or send donations to the APSU Foundation, PO Box 4417, Clarksville, TN, 37044.