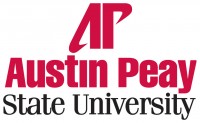 Clarksville, TN – Last week, APSU physical plant staff discovered settlement cracks in the exterior façade of Meacham Apartments while conducting routine building maintenance. APSU officials are working with state and local officials to remediate the problem.
Meacham Apartments, an apartment style living complex built in 1981 and located on West Avenue, has settlement cracks in three of its five structures, including cracks in a walkway connecting the buildings. The settling is believed to be caused by water damage, likely from flooding conditions during recent years, according to APSU officials.
"The flooding we've experienced throughout Clarksville in recent years has affected an area immediately to the northwest corner of the Meacham complex, exacerbating the problem," Tom Hutchins, APSU's physical plant director, said.
An initial investigation of the structure was conducted Tuesday by the Tennessee Board of Regents (TBR) Office of Facilities Development through the Genesis Engineering Group. The initial report provided by the consultant makes several recommendations to remediate the structural and flooding problems near the facility, but did not show concerns about the safety of the building.
APSU's Housing Director Joe Mills said, "We are always concerned when we see cracks in a building's structure, and have worked with TBR officials and engineering consultants to ensure the building is safe for our students."
Mills has notified students living in Meacham apartments of plans to remediate the problem. Initial plans are to begin repairing cracks in walkways this week while other assessments to the surrounding terrain are made to ensure a proper repair to the structure.
According to Hutchins the building is still safe for occupancy, but certainly needs repairs. "We will be doing some preliminary work in the days to come to repair the walkway and we will be bringing in other companies to assess the sub grade conditions around the site in order to further stabilize the building, as recommended in the report. We certainly wouldn't allow our students to occupy the building if we had any safety concerns, but repairs must be made so it does not become a safety concern in the future."
For more information, please contact Bill Persinger, APSU Public Relations and Marketing: persingerb@apsu.edu, 931.221.6309.