Dickens' Classic Tale of Love and Revenge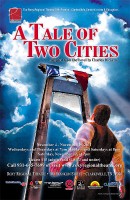 Clarksville, TN – Charles Dickens' famous epic novel of the French Revolution comes to the stage of the Roxy Regional Theatre this fall in a thrillingly ingenious adaptation of "A Tale of Two Cities", opening Friday, November 4th, at 8:00pm.
Directed by John McDonald, "A Tale of Two Cities" stars Michael Mizwicki and Jonathan Reed Wexler as Sydney Carton and Charles Darnay, the English lawyer and French aristocrat caught up inextricably in the violence and bloodshed of the Revolution.  Also featured are Ryan Bowie, Ashton Crosby, Brianna Hertzberg, Ted Jones, Travis Kendrick, Alan Lee, Phil Perry, Linda Speir and Joylene Taylor.
Showtimes
"A Tale of Two Cities" runs November 4th through November 19th, playing Fridays and Saturdays at 8:00pm, with a 2:00pm matinee on Saturday, November 12th. Tickets are $15.00 (adults) and $10.00 (ages 13 and under) and may be reserved online at www.roxyregionaltheatre.org, by phone at 931.645.7699, or at the theatre during regular box office hours (9:00am – 2:00pm, Monday through Friday).
The performance on Friday, November 4th, at 8:00pm, is our pay-what-you-can preview. 
All tickets not pre-sold at the regular ticket price when the box office opens that evening at 7:30pm will go on sale for whatever price you wish to pay.
Related Images:
Sections
Events
Topics
A Tale of Two Cities, Alan Lee, Ashton Crosby, Brianna Hertzberg, Charles Darnay, Charles Dickens, Clarksville TN, French Revolution, John McDonald, Jonathan Reed Wexler, Joylene Taylor, Linda Speir, Michael Mizwicki, Phil Perry, Roxy Regional Theatre, Ryan Bowie, SydneyCarton, Ted Jones, Travis Kendrick