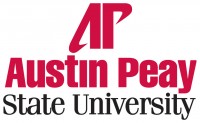 Clarksville, TN – Shortly after Clare Coyle Taylor's husband passed away, she gathered her children together and began creating works of art with them. She'd studied at Austin Peay State University, earning her Bachelor of Fine Arts with a concentration in pottery/ceramic sculpture and painting, but in the years after she graduated, she gradually found less time to practice her art.
Then, following her husband's death, the act of creating took on a new meaning for her.
"I've become even more aware of, and awed by, the healing nature of the process," she said. "There can be a catharsis about the expression and introspection achieved with color, mark making, and material manipulation. Emotions can be released where there are no words."
Next month, Taylor will present the powerful emotions she released through her artwork with a new exhibit at the Austin Peay Downtown Gallery. The exhibition, "Kelly Kerrigan and Clare Coyle Taylor," will feature works by Taylor and fellow APSU art graduate Kerrigan. It will open with a reception from 5:00pm to 8:00pm on December 1st, and runs through December 31st.
"I am so very happy to be showing my artwork with Claire, whom I respect so much as an artist, mother and survivor of life, just like me," Kerrigan said.
Kerrigan graduated from APSU in 1996 with a degree in theater and art, causing her to spend most of her college days inside the campus' Trahern building. That's where she met many of the artists who have inspired and influenced her throughout her career.
"The education and guidance I received from the faculty here so many years ago has by no means expired, thanks to the invention of social media websites," she said. "I have been able to reconnect with all my professors and mentors now as a colleague and friend rather than a young student full of uncertainty."
In 2009, the APSU Center of Excellence for the Creative Arts leased a building in downtown Clarksville to provide gallery space for APSU alumni like Taylor and Kerrigan. The gallery, located at 116 Strawberry Alley in downtown Clarksville, is open from noon to 4:00pm, Tuesdays through Saturdays.
For more information on this space or the alumni exhibit, contact Barry Jones, associate professor of art, at .