Clarksville, TN – Imagine a 19 year old woman's surprise when she found a hand grenade inside of a bag while she was cleaning and moving items around in the store where she works.
 
On November 23rd, 2011, around 4:00pm, in the 2700 Block of Wilma Rudolph Boulevard, 19 year old Nellee Moore was cleaning and reorganizing shelving in the store where she works. She picked up a mesh type bag off of one of the shelves and it felt very heavy.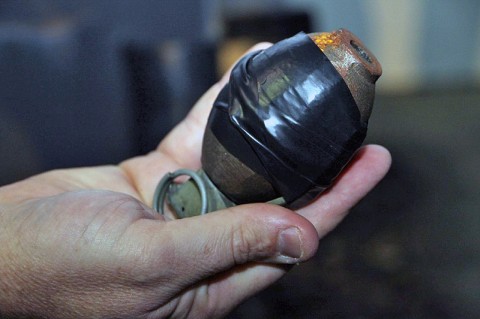 When she looked inside, much to her surprise, she found a hand grenade. It shocked her at first, but then she thought it may be fake. After consulting with a coworker, they started to evacuate customers from the store, Nellee carried the bag with the hand grenade outside to the back of the business, and 911 was called.
When Police, EMS, and Fire Rescue arrived the area was cordoned off, adjoining stores evacuated, and the MCSO Bomb Squad was called. The MCSO Bomb Squad arrived, inspected, and x-rayed the grenade.
They found it to be an inert grenade body and determined that it was not dangerous. Stores returned to normal operation around 5:30pm.
Photo Gallery