Kids-N-Play hopes to help area kids "take play to a new level" and provide a fun, safe, healthy environment for children of all ages, while catering to parents and caregivers as well.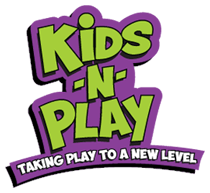 Clarksville, TN – The weather is turning chilly, and soon schools will be closed for the long winter break. Many parents are busy thinking of ways to keep their children occupied during this time of year. Just in time for the holidays, Clarksville's newest indoor children's entertainment center is officially opening and will host special "Grand Opening" events all weekend long – including face painting, free samples of Hunt Brothers Pizza and a raffle.
Located at 525-B Alfred Thun Road (off of Exit 4) in the space formerly occupied by Jump Zone, Kids-N-Play is a new kind of entertainment establishment for children up to age 12. Gone are the large bouncy castles and picnic tables of the old Jump Zone. Instead, children will be delighted by the gigantic multi-level climbing structure, featuring a variety of slides, bridges and tunnels.
"The large indoor play land is designed to promote a healthy and safe form of entertainment," says Kids-N-Play owner Cheryl Sentiff.  "We wanted to create a new kind of facility in Clarksville that is fun for children, while also encouraging them to exercise and stay active."
A train made up of 9 hand-powered cars scoots around the three-railed track that encircles the perimeter of the play system, and kids will also love the large "cannon blaster" foam ball shooter arena.  For those entertainment purists, the facility also offers a variety of skill-based arcade games (basketball, ski-ball, etc.) on site as well.
 
Kids-N-Play truly caters to children of all ages.   For the youngest patrons, the center offers a special  "crawler area" specifically designed with colors and shapes that encourage toddlers to explore and develop new skills.    For those children slightly older, Kids-N-Play has "Tot-ville", a kid-sized town that features a grocery store, diner, animal hospital, fire station, workshop, play house and dress-up area.
"Tot-ville is designed to encourage role-playing, socializing and the use of imagination," says Cheryl.  "Kids love to dress up and it's the perfect form of self-expression for those children who may be a bit too young to truly enjoy the climbing structure and foam ball shooter arena."
While the children are busy playing, adults can enjoy the flat screen TVs, free Wi-Fi, and plenty of comfortable seating.  In addition, the facility boasts a full menu from its snack bar – including Hunt Brothers Pizza, hot dogs, chicken strips, burgers, and more. 
Kids-N-Play's Grand Opening weekend kicks off with a ribbon-cutting ceremony on Friday, December 2nd at 10:00am.  Saturday and Sunday's events will feature appearances by Trixy – the official mascot of the Clarksville Fox Lady Football team.  Hunt Brothers Pizza will be giving out free pizza samples and Kids-N-Play will offer free face painting, temporary tattoos, and free bags of popcorn and nachos and cheese (while supplies last) on Saturday and Sunday as well.  Every person that visits this weekend will also be entered into a raffle, with prizes that include free birthday party packages, free passes, Kids-N-Play apparel, and stuffed animals.  
Says Cheryl, "We encourage people wanting to escape the cold dreary weather to come on out to Kids-N-Play this weekend and let your children truly experience 'taking play to a new level'."