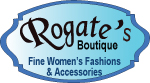 Clarksville, TN – Tired of seeing ten or twelve of the same dress whenever you shop? If so, Rogate's Boutique at 115 Franklin Street in Historic Downtown Clarksville should be your next shopping destination.
By the way, the proper pronunciation is "row-gah-teh's" not "row-gate's" (rhyming with "too late"). The name of the store is the first name of Rogate Hadley, the store's owner. Her Swiss parents chose an Italian name for her, hence the pronunciation.
Rogate, along with her daughter Anne Head, chooses unique clothing to inspire the discriminating shopper to dress with class and sophistication. With most gorgeous sweaters, dresses, fur vests, and other clothing chosen in Atlanta, the Clarksville area shopper can be certain she will not run into a dozen women dressed exactly as she is when she chooses her wardrobe at Rogate's Boutique.
Across and a bit down the street from the historic Roxy Theater, Rogate's Boutique has a terrific selection of jewelry, scarves, handbags and other accessories. Prices for earrings and necklaces are in a modest range with many sets going for less than $20.00 to under $50.00. Silver, turquoise, pearls and other classic arrangements are featured. Exquisite handbags plus colorful scarves compliment dresses that are classic in design and can go from casual to after five with ease.
Hours are 10:00am to 5:00pm Monday through Friday and 10:00am to 4:00pm. On Saturday. For the next three Sundays until Christmas, Rogate's will be open from 1:00pm to 4:00pm.
Since pictures speak louder than words, check out these photos of some of the delightful offerings available right now in the store, then look at Rogate's web site at http://www.rogatesboutique.com/. Even better, go shopping in the store. You won't be disappointed!
Photo Gallery
Map