Clarksville, TN –
What do white gloves, fat quarters, a Civil War history lesson, blue ribbons and a tribute to an old friend all have in common? They are all part of this year's Quilts of the Cumberland quilt show during Rivers and Spires here in Clarksville, Tennessee.
Madison Street United Methodist Church has hosted the Quilts of the Cumberland Quilt Show since its beginning four years ago.  The Quilt show itself is held in the Activities/gymnasium area behind the main Sanctuary with the entrance off Commerce Street.
This year there were nearly 70 quilts exhibited, including a tribute to Bea Goddard, a local master quilter who passed away just 3 weeks ago.  Bea's family members were so gracious in lending some of her prize winning quilts as well as the quilt she was making for this year's show, still in progress.  On exhibit are also Bea's many ribbons and awards. Bea will be missed by many in the quilting community.
Linda Bridges was awarded the Best of Show Ribbon for her spectacular "Glimpses of Spirit" appliquéd  bed-size quilt, as well as a First Prize for her Art/wall quilt "She Sells Seashells".  Both quilts shimmer in the light with metallic threads, beadwork, and beautiful machine quilting and embroidered appliqués of seashells, birds and butterflies.  Linda Thompson's French braid bed-size quilt won a First place ribbon with it's beautiful color combinations and some  amazing  geometric  machine quilting by Gwen Baggett.  Pam Jones takes home 2 ribbons for her miniature "Uncle Sam" and her stained Glass wall quilt of 3 dimensional flowers, bunnies and nature scenes.
Viewers oo'ed and ah'ed over memory quilts made from a small boy's pajamas, a wonderful spiderweb quilt (another ribbon winner) and a an "Evening Star" quilt by the only male quilter, Jerry Edwards, to enter the show this year( which was quilted by Tommy Byard) .  There were tears and exclamations of "I've never won a prize before", as well as excited phone calls to relatives and friends announcing "I won a ribbon !", often by a new quilter.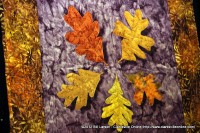 On display are quilts with time consuming beautifully crafted hand quilting as well as the newer machine quilting which will amaze you if you haven't seen the talent behind the computerized and free motion patterns.  Quilts represent memories, reproductions of Underground railroad themes, novelty subjects, geometric puzzles and the newer world of embellishments that include beads, stones, and exciting new threads that sparkle and shimmer.
There are two local quilt guilds represented at the show with information and invitations to join.  Trenton KY's newest Quilt and Sew at Golden Threads quilt shop has an information booth, with upcoming class schedules and fabric samples, but no merchandise is sold.  Any quilter present will be glad to explain the term  "fat quarter" to those new to quilting.
There is a new ribbon award this year for Viewers' Choice.  Everyone entering the show is given a ballot slip and invited to vote for their favorite quilt.  The Viewers' Choice award will be announced after the show closes on Saturday night at 6:00pm.  Although you can't handle or touch the quilts on exhibit, there are ladies wearing white gloves who will be glad to answer your questions or show you the reverse side of a quilt.  They will also assist you in taking photos and directing you to the prize winning quilts.
Remember:  there is no food or drinks allowed in the exhibit hall.  We hope you'll make time to see this year's award winning quilts  Friday evening 5:00pm 'til 8:00pm. and Saturday all day 10:00am to 6:00pm.  Don't forget to vote for your favorite quilt!
Trunk Show
Thursday's exhibits were highlighted by a Trunk Show held by Kathy Stuard of Quilters' Attic who spoke on Echoes of the Past, a history of Civil War and pre-Civil War fabrics, colors and quilts. Kathy's assistants Beth Lane and Tammy Campbell answered questions and helped display the many reproduction quilts as Kathy gave a comprehensive and often humorous history of how cotton and dyes played a part in the Civil war and in the history of quilts in the South.
Photo Gallery