Austin Peay State University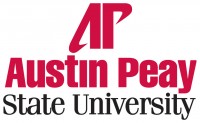 Clarksville, TN – Several faculty and staff members at Austin Peay State University announce their recent professional and scholarly activities.
Philip Voorhees became president of the Tennessee Association on Higher Education and Disability during the organization's annual conference on April 13th.
Lynette Taylor, Martin Golson and Philip Voorhees recently were awarded a TBR Diversity Access Grant for serving at-risk students.
Christina Chester-Fangman, Gina Garber, Katie Pendleton and Joe Weber were part of a panel, titled "Libraries Transform: Case Studies in New Spaces, New Services, New Solutions," at the recent Tennessee Library Association Annual Conference in Knoxville, TN. The panelists, along with colleagues from Johnson City Public Library, discussed how changes in their physical spaces have allowed them to improve their services.
APSU's presentation focused on how, with limited funds, Woodward Library is becoming a more inviting, engaging, student-centered space. Topics addressed included the history of Woodward Library, how reconfiguring space allowed the library to hold popular events such as the Library Athenaeum Series, Trivia Night at the Library and Murder Most Foul: Mystery Night in the Library, as well as the physical makeover of the building with new paint, carpet, furniture and the addition of Starbucks.
Donna Price, director of Student Financial Aid and Veterans Affairs, will present at the Tennessee Board of Regents Fourth Biennial Diversity Conference on April 26th. Her presentation will be "Access and Persistence – Barriers and Best Practices."
Connie Sanders recently was tapped to serve on the Nashville Community College Early Childhood Education Advisory Committee for the 2012-14 academic year. In addition, she will be a member of the Clarksville-Montgomery County School System Pre-K Advisory Committee for the 2012-14 academic year.
Dr. Carter F. Smith, from the department of public management and criminal justice, will be in a satellite and Internet broadcast panel discussion hosted by the Tennessee Center for Child Welfare. The panel will be addressing "Gangs in Child Welfare" on May 18th.
Webcast viewers can participate by visiting the TCCW website at http://video.tccw.org/live.