Austin Peay State University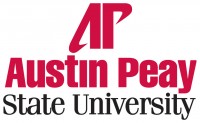 Clarksville, TN – A new painting will soon hang in Harned Hall, on the Austin Peay State University campus. The artwork – a watercolor of the University's quadrangle – was recently donated to the school by the artist, Lynne Waters Griffey, in recognition of the 40th anniversary of the Sigma Kappa chapter of the Chi Omega Women's Fraternity at APSU.
The print will hang with a plaque, acknowledging it as a gift from the chapter to the University.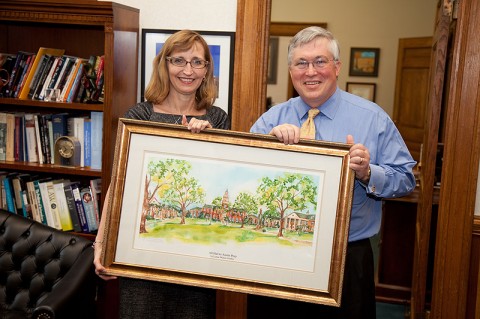 "Isn't this great," Dr. Minoa Uffelman, APSU associate professor of history, said as she presented the artwork to APSU President Tim Hall. Uffelman joined the sorority in 1974.
"This is wonderful," Hall said.
On April 28th, the chapter hosted a brunch at First Baptist Church for all current members and alumnae to celebrate the anniversary. Griffey, a charter member, served as the chair, and she said more than 250 women attended the event.
Of the original 18 charter members, those who attended the reunion were Priscilla Garrett Story, Emma Gray Langford, Karen Smith Stine, Harriett Chester Blake, Wendy Dabbs Blake, Judy Anderson Donnelly, JoAnn Dick Davidson and Judith Hurst Sinks.
Attendees all received a print of a watercolor painting by Griffey. The original framed painting was auctioned off to begin a fund in memory of Sandra Stuard Hewlitt, a charter member who died in an accident a few years ago. Her daughter Leslie is also a legacy. The purpose of the fund is to help active members who are struggling financially.
"Philanthropy has always been important to Chi O and how fitting to remember a charter member by helping actives financially," Griffey said.
In May 1972, the Sigma Tao Omega sorority was granted an official charter from Chi Omega, becoming the first national sorority on APSU's campus. Since then, APSU's Chi Omega chapter has raised nearly $50,000 for the Make-A-Wish Foundation and has donated thousands of volunteer hours to local charities and organizations.
In the last four decades, nearly 800 college women have been initiated into the Sigma Kappa chapter of Chi Omega, and many have gone on to serve as local community leaders.