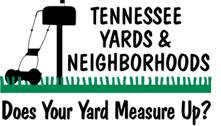 Montgomery County, TN – The Tennessee Yards and Neighborhoods program is conducting a Home Landscape Workshop to help homeowners create attractive and healthy yards by working with Tennessee's environment rather than against it.
A "Tennessee Yard Done Right" is beautiful, earth-friendly and saves money.
The Home Landscape Workshop will be held in Clarksville, TN on Saturday, June 23rd, 2012. The six-hour workshop will begin at 8:30am and will be held at the Civic Hall in Clarksville, TN. The class is limited to 25 participants. The cost is $35.00 per individual, $50.00 per couple. Lunch is provided.
Registration due by June 18th, 2011
Participants will receive, soil test vouchers, educational materials; rain gauge and tote bag.
Home Landscape Workshop
Location
Date / Time
Civic Hall350 Pageant Lane

Clarksville, TN

June 23, 20128:30am-4:00pm
Please contact Karla Kean for registration at 931.648.5725 or Email: