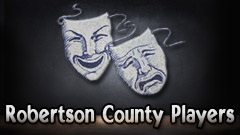 Springfield, TN– In conjunction with the 100th Anniversary of Buffalo Bill's Wild West Show's 1912 appearance in Nashville, The Robertson County Players present Irving Berlin's "Annie Get Your Gun." The show features a cast of over 60 actors, singers and dancers plus a full orchestra, this is an event that shouldn't be missed. It's not often you'll get a chance to see a full-scale musical extravaganza that will rival anything at TPAC or for that matter Broadway itself.

This beloved musical is the highlight of the RCP's 33rd season bringing quality community theater to Robertson County. Audiences continue to be amazed by the talented actors, singers, dancers and musicians living and working right here in our area.
During the run of the show there will be a display of Buffalo Bill and wild west memorabilia in the theatre lobby of the historic Springfield Middle School for viewing by the audience.
The show will run Thursday through Saturday, July 12th-14th at 7:00pm, on Sunday July 15th at 2:00pm, and Thursday through Saturday July 19th-21th at 7:00pm, at Springfield Middle School Auditorium, 715 5th Avenue West in Springfield, Tennessee.
Advance Tickets can be purchased at the Robertson County Chamber of Commerce, White's Jewelers, & Holman Jewelers in Springfield, Greenbrier Florist in Greenbrier, BJ's Family Restaurant in Pleasant View, The Bargain Browser in White House and on-line at www.TicketsNashville.com. At-the-Door Tickets will be $15.00 each.
For further information go to the RCP's Facebook page or on Twitter at RCP_plays.
Map