Clarksville, TN – On September 6th, 2012, around 9:24am, Clarksville Police were called to the area in front of Kiddieland Day Nursery located at 207 Chapel Street, for a shooting in progress.
The nursery took immediate action to safeguard the children and employees that were all inside at the time of the shooting and took action to assist the shooting victims.
Officers arrived on scene in 3 minutes and found a 22 year old woman and a 25 year old man that had been shot.
The man had been shot in the arm, hand, and the head was grazed. The woman had been shot in the hand. The man was taken by Lifeflight to Vanderbilt University Medical Center with non-life threatening injuries. The woman was transported by ambulance to Gateway Medical Center. Both are in stable condition.
Despite the limited cooperation at the scene, the investigation revealed there was a fight between the 25 year old and another man in the street. The 22 year old female intervened in the fight and, at some point, an unknown person fired approximately four handgun rounds hitting both the 25 year old man and 22 year old woman. It was also determined the shooting victims were involved in some sort of relationship together.
Based on the information obtained at the scene, we have no reason to believe the nursery was targeted in the shooting. The woman had just dropped her children off at the nursery and the confrontation between the men occurred in the street in front of the nursery.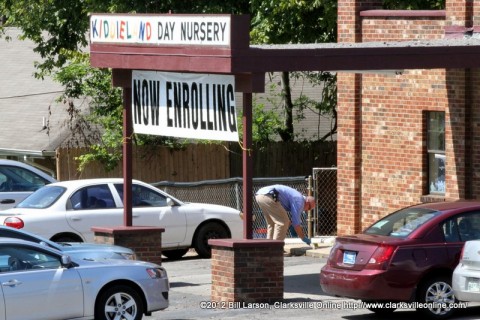 Police are asking the public to call with any information about the person(s) involved in the discharging of a firearm in front of a nursery which showed a disregard for the safety of residents in the area and the children inside the nursery.
The lead investigator is Detective Josh Jobe and information can be called into the TIPSLINE, 931.645.8477.
Photo Gallery