APSU Sports: Austin Peay Volleyball

Tuscaloosa, AL – For the second consecutive season, Austin Peay State University's volleyball team will compete in the Hampton Inn Bama Bash, hosted by Alabama, this weekend at Foster Auditorium.

Austin Peay (2-8) has been playing a frenetic schedule with 10 matches in the season's first 11 days. The Lady Govs will tack on four more matches in this weekend's event, beginning with a 2:00pm, Friday contest against East Tennessee.

Austin Peay will meet host Alabama in a 7:00pm. outing to wrap up Day 1. It then gets up bright and early for a 9:00am, Saturday contest against Lamar before wrapping up its stay against Alabama State.

The Lady Govs went 1-2 at the Bama Bash last season, posting a win against Alabama State and dropping four set matches to both Alabama and Texas State. It also will be the second consecutive season APSU has met East Tennessee, winning a four-set match at Middle Tennessee's Blue Raider Bash last season.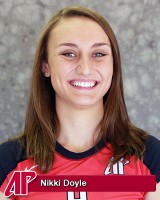 Austin Peay enters its final preseason tournament seeking consistency, particularly on defense where opponents have had their way in the early going. Meanwhile, the Lady Govs offense has shown signs of life in the past week and enters the weekend leading the OVC in attack percentage (.197) while ranking fourth in kills (12.00 kills per set).
"Our message through the first four weeks has been that we have to play better defensively if we are going to win sets," said Lady Govs head coach Taylor Mott. "We have seen improvement in the first 10 matches but it is something we have to keep working on every day and in every match."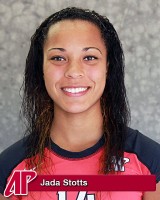 Sophomore outside hitter Jada Stotts has shown plenty of confidence lately, earning all-tournament honors last weekend at the Missouri State tournament. She has surged into the team kills lead with 119 and ranks third among OVC hitters with 3.40 kills per set while posting a respectable .206 attack percentage.

"The biggest thing for Jada has been her confidence level," said Mott. "When she is playing with confidence she is one of the most dangerous hitters on the court. The past five matches she has taken to the increased playing time and is showing her offensive capabilities."

East Tennessee (7-2) is off to the best start in program history with its two losses coming against Southeastern Conference members Auburn and South Carolina. Junior outside hitter Megan Devin leads the Bucs offense with 145 kills (4.26 kills per set) and in equally impressive .275 attack percentage.

Alabama (6-1) has won five straight matches after suffering its only loss to Northeastern on the season's opening day.  The Crimson Tide have limited opponents to a paltry 9.75 kills per set this season while posting 13.83 kills per set. Sophomore outside hitter Pricilla Duke-Ezeji leads the team with 91 kills (3.79 kills per set).

Lamar (6-4) also has played a busy early season schedule and bring a three-match win streak into this weekend's tournament with wins against South Carolina State, Tulane and Louisiana-Lafayette. Junior outside hitter Sierra Whittaker has posted 101 kills (2.73 kills per set) to lead the Cardinal's offense. Lamar's defense has been its strong point in the early going with three players recording more than 25 blocks and the team posting 63 blocks (1.72 blocks per set) in the season's first two weeks.

Alabama State (0-7) enters Weekend No. 3 seeking its season's first victory. Ohio Valley Conference members Tennessee State and Jacksonville State have posted sweeps against the Hornets this season.  Freshman outside hitter Rachel Smith leads the Alabama State offense with 44 kills (1.91 kills per set).

All matches of the Hampton Inn Bama Bash will be available online through Tide TV, which will require purchasing the monthly subscription package to view.



Sections
Sports
Topics
Alabama, Alabama State, APSU, APSU Athletics, APSU Sports, APSU Volleyball, APSU Women's Volleyball, Auburn, Austin Peay State University, Blue Raider Bash, Bucs, Cardinals, Crimson Tide, East Tennessee, Foster Auditorium, Hampton Inn Bama Bash, Hornets, Jacksonville State, Jada Stotts, Lady Govs, Lamar, Louisiana-Lafayette, Middle Tennessee, Nikki doyle, Ohio Valley Conference, OVC, South Carolina, South Carolina STate, Southeastern Conference, Taylor Mott, Tennessee State, Texas State, Tulane, Tuscaloosa AL