Written by Colby Wilson
APSU Sports Information

Clarksville, TN – After 105 hard-fought minutes, Austin Peay State University women's soccer team allowed a golden goal off a corner kick to fall to South Alabama, 1-0, Friday at Morgan Brothers Field.
"We have got to learn to put teams away," said head coach Kelley Guth. "The longer we let the score stay tied the harder it will be to find a way to win."
The Lady Govs (3-5-0) controlled pace in the first half, out-shooting the Jaguars 9-1 in the opening 45 minutes and putting four shots on net.
Corner kicks, which the Lady Govs had six of in the first half, helped apply pressure to the South Alabama (5-3-1) defense. Junior Joceline Quiceno put an attempt on net in the 10th minute, and Emily Perkins just missed a header in the 22nd that she out-jumped multiple Jaguar defenders to get a head on.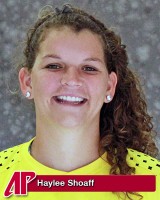 In the second half, shots were more evenly distributed (9-8 in favor of the Lady Govs), but goals were just as elusive. Austin Peay keeper Haylee Shoaff made two saves in the first five minutes of the half to preserve the tie; all six of her saves came after halftime in this contest.
Both teams failed to score in regulation, forcing overtime – the first such occurrence for the Lady Govs this season. In the OT periods, Lady Govs junior Tatiana Ariza, who led all players with six shots and five on goal, put two shots on net but couldn't find the nylon on either attempt.
A dubious corner kick awarded to South Alabama midway through the second overtime provided the Jaguars an opening on a set piece. An Alyssa Mayer corner kick was touched back by Shawn Meach and chested in by Jessica Oram to end the match.
"Any set play in overtime is dangerous," Guth said. "We work on set plays every day. Players are accountable in those scenarios and they capitalized when a player got free."
Shoaff made six saves in the loss for the Lady Govs. South Alabama's Melissa Drish made 10 saves for her first victory this season. Nine Austin Peay players were on the field for 90 minutes or more in this match, and seven played the full time.
The Lady Govs are back in action Sunday afternoon when they host SWAC foe Alabama A&M in a 2:00pm match.