Written by Cody Bush
APSU Sports Information

Clarksville, TN – Austin Peay State University's volleyball team has scattered far and wide this weekend as the schedule provides a 10-day break between its victory at Middle Tennessee, Tuesday, and its upcoming 7:00pm, Friday, September 21st home-opening contest against Jacksonville State that also will serve as the team's Ohio Valley Conference opener.

The 2012 season's opening three weeks have seen the team make progress under first-year head coach Taylor Mott.

The Lady Govs did open the campaign with its first-ever victory against Memphis, then promptly suffered through a five-match losing streak.

During that losing streak, Austin Peay was on the cusp of a breakthrough but often could not find the key point or points it needed.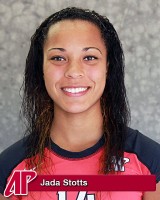 The Lady Govs snapped their losing streak with a five-set win against UALR at the Missouri State tournament, avenging a five-set loss to the Trojans in the season's second match. Austin Peay ultimately posted another 1-3 mark in a tournament, but losses to Oral Roberts and Missouri State came by a razor-thin 11 points, each over three sets.
A loss to Lipscomb, September 4th, may have galvanized the Lady Govs. They responded with a three-set thumping of East Tennessee – a team off to its best start in program history – in their next outing. Austin Peay then put a scare into host Alabama, winning the battle on the stat sheet, but falling in four sets. It followed up with resounding wins against Lamar and Alabama State to finish second at the tournament.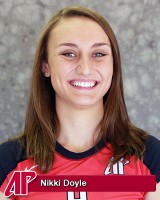 Austin Peay put an exclamation point on its first three weeks with a sweep of in-state rival Middle Tennessee. The Lady Govs showed they solved the problems that plagued them in the season's opening week, piecing together late-set rallies to win each of the three sets.
Individually, sophomore outside hitter Jada Stotts has been the surprise through three weeks, with her 3.82 kills-per-set ranking third among Ohio Valley Conference hitters. Her 27-kill performance against Alabama is the best single-game outing in the league this season and was one of Austin Peay's top 10 performances all-time.
Stotts' start has taken the pressure off senior outside hitter Nikki Doyle, a preseason All-OVC selection who has gotten off to a slow start. She showed signs of shaking out of the early-season doldrums at the Bama Bash with three double-digit kill outings and has moved solidly into the second spot statistically with 2.76 kills per set.
The next three spots among the Lady Govs offensive leaders belong to middle blockers, which is a testament to the performance of sophomore setter Cami Fields. She ranks second among OVC setters with 9.83 assists per set, but that is largely due to the Lady Govs slow offensive start. More tellingly, she has four 50-assist outings this season, most in the league, including an OVC best 59-assist performance against UALR in Memphis.
Prevailing wisdom is when a team is playing well they can't wait to get back on the court. However, Austin Peay will come back from its weekend off and Mott will work to bring her team's attention to the task before it – the 16-match OVC schedule that begins against the always-challenging Gamecocks.
Sections
Sports
Topics
Alabama, Alabama State, APSU, APSU Athletics, APSU Basketball, APSU Sports, APSU Sports Information, APSU Women's Basketball, Austin Peay State University, Blue Raiders, Cami Fields, Clarksville TN, Cody Bush, East Tennessee, Gamecocks, Hampton Inn Bama Bash, Jacksonville State, Jada Stotts, Lady Govs, Lamar, Lipscomb, Memphis, Middle Tennessee, Missouri State, Missouri State Tournament, Nikki doyle, Ohio Valley Conference, Oral Roberts, OVC, Taylor Mott, UALR