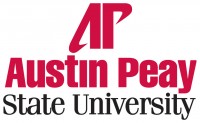 Clarksville, TN – In the fall of 2001, Austin Peay State University opened its Academic Support Center in a small, unused classroom on campus. The space was staffed by only a handful of tutors who showed up whenever they had an opening in their schedule.
Often, the doors were locked and the lights were off, and by the end of that first year, only about 340 people stopped by for help.
Today, the center occupies a complex of offices inside the Marks Building, and it provides valuable help to more than 4,000 students a year in almost every subject area offered at the University. Because of this success, officials with the center recently decided it was time to become certified by the prestigious College Reading and Learning Association.
Earlier this month, the CRLA contacted the APSU Academic Support Center to let them know they had received the highest level of certification possible – a level 3 master certified tutor status. That means the University's center prepares tutors so thoroughly that they are now a certified training agency.
"There were high fives all around the place," Martin Golson, director of academic support at APSU, said.
"Everybody here is just elated. There have been a lot of people who have worked real hard to bring this to pass."
Reviewers with the CRLA spent months examining every aspect of the Academic Support Center's services and tutor training procedures, looking for any redundancies or mistakes. When they emailed Golson to let him know that APSU had received its Tutor Training Program Certification, they sent along a list of comments.
"Overall one of the best structured training programs I have reviewed," one CRLA reviewer posted.
"It was a pleasure doing this review," another reviewer said.
The certification and the comments reinforce what Golson already suspected – that APSU students receive top-notch help in their studies when they visit the Academic Support Center.
"This means we have some really great tutors," he said. "It means they've been trained well and they know their stuff. We knew we were doing the right things because the data shows that if students just work with our tutors, their chances of success are much higher."
The new certification also offers a boost to the center's current student tutors. If they go on to work as tutors in graduate school or other academic support agencies, they can now say they are CRLA certified.
"It means a lot to say 'I am CRLA certified,'" Golson said. "We have great confidence in what we're doing here."
The Academic Support Center provides free services to APSU students, such as peer tutoring, a writing center, technology support for the enhanced courses and study guides. The center also offers free preparation workshops for APSU students and prospective APSU students taking the COMPASS exam, the GMAT and the PRAXIS exam.
For more information on the center and the services it provides, visit it online at www.apsu.edu/academic-support-center.