APSU Sports: Austin Peay Men's Basketball

Clarksville, TN – Austin Peay State University men's basketball team will tipoff the 2012-13 season when it plays host to Central Missouri for their now annual exhibition contest, 7:30pm, Saturday, in Dave Aaron Arena.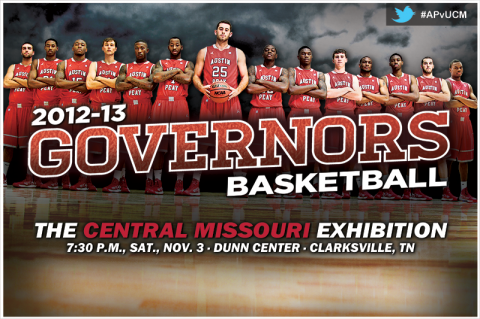 This is the fifth straight year the Governors have served as host to the Mules, annually not only one of the top teams in the Mid-America Intercollegiate Athletic Association (MIAA) but Division II as well. Mules assistant coach Brad Loos is the son of APSU head coach Dave Loos as well as being a former Governors player.
"The novelty (Loos vs. Loos) has worn off," the elder Loos said. "Before and after the game we will get together but during the game it is not something you really think about-they are just another opponent, a very good opponent at that."
Austin Peay is coming off a disappointing 12-20 season and return one starter from last season. However, senior point guard Jerome Clyburn, who had 26 starts a year ago, is out for a month after suffering a surgery-necessitating knee injury. As a result, it basically will be a new-look lineup the young Govs put on the floor come Saturday night after the Lady Govs-Southeast Missouri volleyball match.
The Govs won't be completely void of veterans Saturday. Redshirt senior forward Anthony Campbell, a former All-Ohio Valley Conference performer who has played a total of 20 games over the last two after tearing his anterior cruciate ligament in each of the last two campaigns, is giving it a final whirl. In addition, his former prep teammate, Will Triggs (6.2 ppg, 3.9 rpg), who started nine times early last season, is back.
But it will be all new faces after that. Freshman AJ Lynch, who impressed during the Canada trip, will start in place of Clyburn at point guard. Late signee Travis Betran is expected to man the other guard spot while lean 6-8 freshman Chris Horton is expected to start at center.
Herdie Lawrence, who started the season's final five games will support the backcourt. Two other freshmen, 6-5 guard Corey Arentsen and 6-8 forward Preston Herring also will be counted on as will sophomore forward Chris Freeman and redshirt sophomore guard Thomas Greer. Junior center Matt Hasse and redshirt sophomore Joe Harms will supplement the frontcourt.
Central Missouri finished 19-8 a season ago and captured a share of the MIAA regular season championship. The veteran Mules return 6-6 forward Dominique Long, who averaged 12.7 ppg and 5.6 rpg a year ago, along with guard Widgett Washington, who 11.9 ppg and 4.7 apg. In total, the Mules return nearly 70 percent of their offense and rebounding from a year ago.
"Central Missouri is a very talent team, a real veteran group," Loos said. "They are one of the top Dhave some real physical players. When you watch the way they do things it is like a mirror image of what we do.
"We learned a lot about our ball club in Canada-it was a great learning experience-and we will know a lot more about it after Saturday night."