APSU Sports: Austin Peay Soccer

Martin, TN – A late Joceline Quiceno goal propelled  Austin Peay State University women's soccer team back into the Ohio Valley Conference tournament final by way of a 1-0 victory against SIU Edwardsville, Friday, at Skyhawk Stadium.
The victory puts Austin Peay (12-7-1) back in the championship game for the first time since 2010. They will face regular-season champion UT Martin (12-5-3) in Sunday's 1:00pm final. Austin Peay fell to Morehead State, 2-1, in their first OVC Championship game.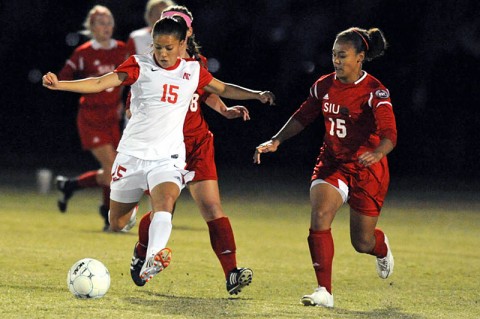 "We're excited," said head coach Kelley Guth. "We're proud of what we've accomplished so far. Now we've got to move forward and look ahead to Sunday."
A scoreless first-half was not without its chances on both sides. Junior Haylee Shoaff made three first-half saves, while SIU Edwardsville (7-8-3) netminder Jennifer Pelley made two saves. Senior Emily Perkins (10th minute) and junior Joceline Quiceno (32nd minute) put shots on net for the Lady Govs in the first half.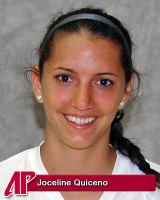 Late in the first half, a winding run by the Cougars Katye Skrivan was cut down on a sliding tackle by Quiceno, who raced back from midfield to cut off an open lane to the net.
The Cougars began to wear down in the second half, partially due to the effects of going into a shoot-out the previous evening against Eastern Kentucky. But as fatigue set in, SIU Edwardsville's urgency increased. At the 77-minute mark, an Austin Peay foul gave SIU Edwardsville a free kick just outside the 18-yard box. Fortunately, SIU Edwardsville's Kortney Price sailed the free kick over the net.
In the 84th minute, junior Tatiana Ariza sent a cross into the box that deflected off a Cougar defender. As the ball rolled toward the net, Quiceno slid into the box and knocked the ball into the net, giving Austin Peay its first lead against SIU Edwardsville this season and breaking a scoreless streak of greater than 200 minutes in matches between the two schools.
The goal was the fifth for Quiceno this season. Ariza's assist is her eighth this season, giving her the top single-season mark in Austin Peay history.
Shoaff made six saves for the win; she now needs six saves to earn the third-highest single-season mark in school history. Pelley made four saves in the loss.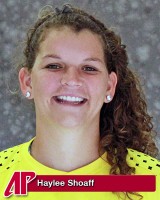 "It was a battle," Guth said. "We knew it would be a battle. There are opponents you have to grind against. SIU Edwardsville doesn't give up opportunities early or often, but we capitalized on one and now we're in the championship game."
In earlier OVC semifinal action, host UT Martin defeated Southeast Missouri 1-0 to advance to the final. The host school has only advanced to the final once in the last three OVC Tournaments.