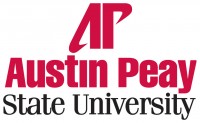 Clarksville, TN – The Austin Peay State University College of Business will hold its first Dean's Research Forum next week.
The first Dean's Research Forum will focus on innovative effective business practices. It will feature presentations of selected published scholarly contributions developed by APSU College of Business faculty members.
The forum will be held from 6:00pm-7:30pm, Thursday, November 8th in the Gentry Auditorium, located inside the Kimbrough Building.
The event is open to the public, especially to APSU and the business community. A reception will be held at the end of the forum.
Dr. Kenny Holt, chair of the department of management, marketing and general business, will moderate the forum, which will include the following presenters from the College of Business:
Dr. Dave Grimmett, professor of management and decision sciences. His paper is titled "Multi-Period Production Planning With Inventory, Interest Rate and Backorder Considerations: A Pedagogical Presentation."
Dr. Dennis Pearson, associate professor of economics, Dr. Dong Nyonna, associate professor of finance, and Dr. K. J. Kim, professor of economics. Their paper is titled "The Relationship Between Economic Freedom, State Growth and Foreign Direct Investment."
Dr. Hassan Said, associate professor of accounting. He will present a paper, titled "Liquidity Constraints and Asset Allocation: A Model for the Insurance Firm."
Each presentation will include a question-and-answer session from the audience.
Full papers will be available online at www.apsu.edu/business/research-forum .
Sections
Events
Topics
APSU, APSU College of Business, APSU Gentry Auditorium, APSU Kimbrough Building, Austin Peay State University, Clarksville TN, Dave Grimmett, Dean's Research Forum, Dennis Pearson, Dong Nyonna, Hassan Said, K.J. Kim, Kenny Holt