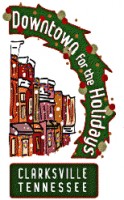 Clarksville Tn – As part of Clarksville's Downtown for the Holidays event, the City of Clarksville and Ingredients have partnered together to host this year's 4th Annual Christmas Cookie Bake-off.
Bakers of all skill levels are encouraged to bake their favorite holiday treat and submit their entry to Ingredients, located at 100 Strawberry Alley by 4:00pm, December 1st. Entry fee is five samples for judging along with two dozen treats which will be donated to Loaves and Fishes.
Judging will begin promptly at 4:30pm at Ingredients.  Entries will be judged according to taste, presentation, and originality.  A first, second, and third place winner will be awarded.
Downtown for the Holidays is presented by the City of Clarksville and Montgomery County Government and is sponsored by Agero, US Bank, DiscoverClarksville.com, ClarksvilleOnline.com, and C&S Automotive.
For a more information, guidelines, and entry forms please visit www.cityofclarksville.com or call 931.645.7476.