Clarksville TN – Join the City of Clarksville and US Bank as we celebrate Christmas on the Cumberland's 14th year with a grand opening ceremony, tonight, November 20th, at 6:30pm at McGregor Park's RiverWalk.
The City of Clarksville's Christmas on the Cumberland, a Southeast Tourism Society's Top 20 Event for the fifth year in a row, is sure to create lasting memories this holiday season as thousands experience the captivating displays of over one million lights!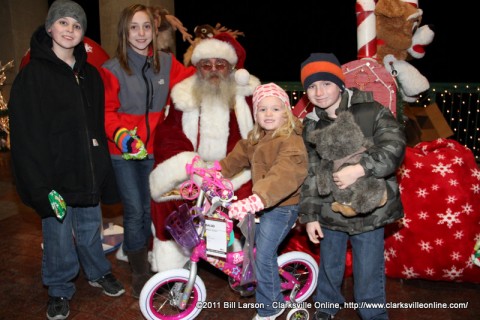 The grand opening will feature the official lighting of the Cumberland by Clarksville Mayor Kim McMillan along with special guests, Channel 4 News Snowbird and Santa Clause! Apollo Coffee will have drinks, sweets, and packaged goods available for purchase.
Christmas on the Cumberland is open nightly from 5:00pm-10:00pm, Sunday through Thursday and 5:00pm-11:00pm, Fridays and Saturdays through January 5th, 2013. Admission to the event is free.
Family friendly activities will take place multiple Friday and Saturday nights from 6:00pm-8:00p.m. Kids will have the opportunity to decorate cookies, create crafts, and enjoy special performances by local dance academies. Visit www.cityofclarksville.com for a schedule of events.
Christmas on the Cumberland is presented by the City of Clarksville and US Bank and is sponsored in part by ClarksvilleOnline.com.