Tennessee Tech vs. Austin Peay Governors
Fri-Sat, April 5th-7th, 2013 | 6:00pm, 2:00pm, 1:00pm
Clarksville, TN | Raymond C. Hand Park

Clarksville, TN – A battle of the Ohio Valley Conference's second and third place teams will take place when Austin Peay hosts Tennessee Tech in a three-game set, Friday-Sunday, at Raymond C. Hand Park.
With the 11-week OVC regular-season race entering its fifth week, the second-place Governors sit just percentage points ahead of the third-place Golden Eagles.
Austin Peay brings a five-game win streak into the weekend after sweeping Murray State last weekend and picking up midweek wins against Lipscomb and at Western Kentucky.
Tennessee Tech saw its 14-game win streak halted with a seven-inning loss to SIU Edwardsville, Sunday, and followed that outing with a Tuesday loss at East Tennessee, giving it back-to-back losses for only the second time this season.
Austin Peay Governors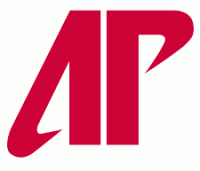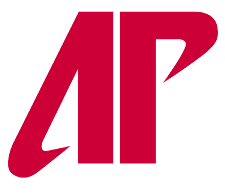 Austin Peay's 24-5 record is its best 29-game mark in program history. Austin Peay is second in the OVC race with a 7-1 league mark, behind Belmont (8-1) and ahead of Tennessee Tech (10-2) on percentage.
Junior second baseman Jordan Hankins posted a game-winning two-run double at Western Kentucky, Wednesday, and has 7 hits in his last 3 games.  Senior outfielder Cody Hudson is battling through a that has seen his overall batting average drop 43 points in the last six games, but he continues to lead the Govs with a .368 batting average that ranks second in the OVC.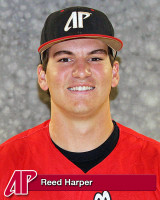 Senior shortstop Reed Harper was named the adidas® OVC Player of the Week after leading APSU with 7 RBI in four games last week; his .438 batting average in league play is second among OVC hitters. Junior first baseman Craig Massoni leads the Govs with 15 hits (.441 BA) and 10 RBI in OVC play and is third on the team with a .337 batting average in 2013.
Sophomore center fielder Dylan Riner moved into the No. 2 spot in the lineup 9 games ago and has batted .297 with a .386 on-base percentage since the move. Junior catcher P.J. Torres has appeared behind the plate in all 29 games this season and has caught 235 of the team's 266 innings pitched.
Junior right fielder Rolando Gautier has led the Govs with a .395 batting average and .500 on-base percentage during his current 9-game hit streak. Third baseman Kevin Corey moved into the No. 9 spot 9 games ago and has 2 hits and 4 RBI since the move. APSU has used four players at DH this season, combined they are batting .215 with 9 RBI.
Junior Lee Ridenhour will start Game 1, Friday, eight days after striking out a career-high 9 batters in a 9-inning outing at Murray State.
Senior Casey Delgado, APSU's Game 2 starter, has posted a career-high in strikeouts each of his last two starts, totaling 19 strikeouts in those 14 innings.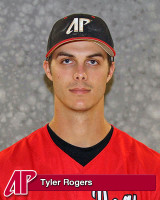 Junior Ryan Quick will start Game 3 for the second consecutive week after posting a win at Murray State last week in his first OVC start this season.
Closer Tyler Rogers is 5-0 with 12 saves in 20 appearances this season and became APSU's career saves leader with his 21st career stop, March 22nd, against Jacksonville State.
Head coach Gary McClure has 776 career wins, tying the OVC career wins mark. APSU has won six consecutive OVC series and nine straight series overall, dating back to last season.
Tennessee Tech Golden Eagles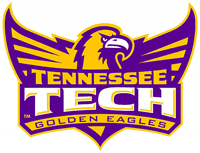 Tennessee Tech held a 7-6 record after a loss at Eastern Kentucky, March 9th, but the Golden Eagles found their stride and pieced together a 14-game win streak that lasted nearly the month's remainder. The win streak was stopped with a seven-inning, 6-4 loss to SIU Edwardsville, Sunday, and TTU suffered a 3-0 loss at East Tennessee, Tuesday, for only its second back-to-back losses in 2013. Tennessee Tech has not lost three consecutive games this season.
Senior right-hander Tristan Archer has picked up where he left off in 2012, opening 2013 with a 5-1 record and 2.27 ERA with 48 strikeouts in 47.2 innings pitched. Archer held the Govs to four hits in a shutout loss in last season's series in Cookeville, his final outing of the 2012 campaign.
Senior right-hander Nick Price is TTU's No. 2 starter and brings a 4-1 record and 5.90 ERA into the weekend, but lasted only 1.2 innings against SIU Edwardsville last weekend. Sophomore right-hander Jacob Honea has been the Golden Eagle's No. 3 starter the last three OVC weekends and has a 1-1 record and 5.93 ERA in seven starts this season.
TTU's pitching staff has recorded 269 strikeouts in 253 innings pitched for a league-leading 9.57 strikeouts per nine innings.
The TTU  offense leads the league in slugging percentage (.444) – with a league-leading 24 home runs – while ranking second in batting average (.288). Junior Daniel Miles (.330) and junior designated hitter Brandon Thomasson (.327) rank 12th and 13th among the league's hitters in batting average. Junior first baseman Zach Stephens, a preseason OVC Co-Player of the Year, leads the OVC in RBI (32), home runs (7) and runs scored (31).
The Governors-Golden Eagles Series
Austin Peay and Tennessee Tech have met 165 times on the diamond, APSU holding an 88-76-1 edge, including a 63-49 mark in OVC play. The Govs have won the last two OVC series, sweeping the 2011 set in Clarksville and winning 2-1 in Cookeville last season. Austin Peay leads the series in Clarksville, 49-22, and has won four straight vs. TTU at RCHP.
Govs Extending Program's Best Start
Austin Peay began the season's second half with a victory at Western Kentucky, Wednesday, improving to 24-5 entering the season's eighth weekend.
It is the best 29-game mark in program history, topping the 21-8 standard set by the 1971 OVC Championship squad.
Looking ahead, the Govs best 32-game mark is 24-8 by the 1971 squad.
Govs A Serial Streaker
APSU has won six consecutive OVC series, dating back to last season – a streak that started after losing a series to Jacksonville State, April 27th-29th, 2012. In addition, the Govs have won nine consecutive three-game series, including its OVC streak and non-conference series victories against Iowa, Illinois State and Michigan State this season.
Austin Peay Earns Votes In Two National Polls
For the fourth consecutive week, Austin Peay was listed among the teams receiving votes in the USA TODAY Sports Coaches Poll. The Govs gathered 8 points in the April 1st poll – up from one point the week prior – and were tied for 35th unofficially with Campbell.
For the third straight week, Austin Peay was among the list of others receiving votes in the National Collegiate Baseball Writers Association's April 1st poll.
Govs Ranked No. 7 In Mid-Major Poll
Austin Peay fell one spot in CollegeBaseballDaily.com Mid-Major Top 25 Poll and was ranked No. 6 in the poll's April 1st edition. Indiana took over the poll's top spot followed by No. 2 Louisville, No. 3 San Diego, No. 4 Missouri State and No. 5 Florida Atlantic.
The Mid-Major Poll includes all baseball conferences except the ACC, Big 12, Big West, Conference USA, Pac 12 and the SEC.
McClure Ties OVC Wins Mark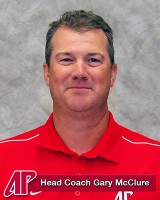 Austin Peay head coach Gary McClure tied the OVC career wins mark, Wednesday, with his 776th victory in a 3-1 decision at Western Kentucky.
Now in his 26th season as the Govs manager, he tied the record set by former Murray State head coach Johnny Reagan, who compiled a 776-508-11 record over his 36-year career (1958-1993).
McClure already holds the OVC record for league wins, becoming the first coach to record 300 wins last season and entering this weekend with 319 OVC victories to his credit.
Rogers Ties Own APSU Saves Mark, OVC Marks In Sight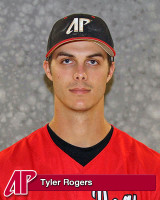 Closer Tyler Rogers tied his own single-season saves mark with his 12th save at Western Kentucky, Tuesday, reaching the mark in the Govs 29th game.
Last season, Rogers recorded his record 12th save in Austin Peay's 62nd game. Rogers also is APSU's career saves leader with 24 stops during his career.
Among OVC pitchers, he is third on both the career and single-season lists entering the week. Jacksonville State's Todd Hornsby set both marks last season with a 15-save campaign to finish with 32 career saves.
Probable Starting Pitchers
Date
Start
Austin Peay Starter
Opponent Starter
Friday
6:00pm
RHP Lee Ridenhour (RJr., 4-0, 2.72 ERA)
RHP Tristan Archer (Sr., 5-1, 2.27 ERA)
Saturday
2:00pm
RHP Casey Delgado (Sr., 5-1, 3.98 ERA)
RHP Nick Price (Sr., 4-1, 5.90 ERA)
Sunday
1:00pm
RHP Ryan Quick (Jr., 3-1, 6.94 ERA)
RHP Jacob Honea (So., 1-1, 5.93 ERA)
Media Center
Radio: Governors Sports Network
Online Audio: www.LetsGoPeay.com
Twitter: @APSUBaseball