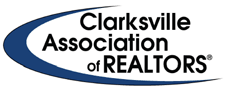 Clarksville, TN – On April 6th, the Clarksville Association of Realtors was the center point for recognizing the achievement of students from various high schools who completed the 12 week Youth Career Development Program.
The graduates consisted of Cassidy Ebersole, Stacey Jenkins, Raven Ross, Matthew Ebel, Courtney Carter, and David Johnson.  Upon receiving their certificate of completion and final program stipend, each student was awarded the opportunity to share what they learned throughout the program.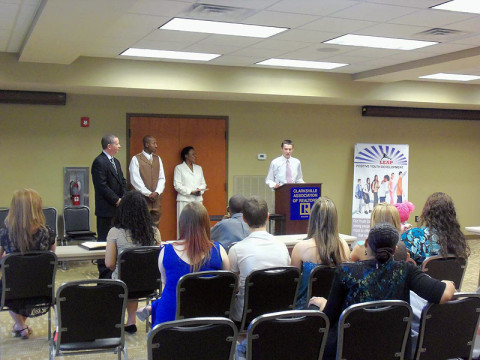 "I really learned a lot from the course and it was very good for me. It was good for me because it helped me come out of my shell since I'm not a talkative person. It was fun working for Manna Café and helping serve food to people who may not have food to eat. I would like to keep doing that. I'm grateful for this opportunity." commented Stacey
"Being in the LEAP Organization has helped me grow as a person. I learned a lot in the past 12 weeks working at Daymar/Manna Café. I met amazing people who now I would consider my family. I learned to not be greedy and selfish and to be thankful for everything I have because there is always someone ina more complicated situation. I feel honored to be picked out of all the applicants and am grateful for that. I hope the LEAP program continues to grow because I know there are other out there like me that would benefit from this program. Thank you!" exclaimed Cassidy
"I learned that I need to have self-confidence in order to be a successful person and a beneficial employee.  I worked on my lack of self-confidence during the course of this program , and feel more prepared to enter the work force." added Raven
The ceremony featured guest speakers such as Virginia Talley, the Executive Director of the Tennessee Vocational Rehabilitation Center and State Representative Joe Pitts that offered words of encouragement and practical advice for the students to take with them as they set out to build their resume.
Zaxby's, whom co-sponsored the ceremony with the Daymar and LEAP, were on site to interview the graduates and cater the meal concluding the ceremony.  Also present at the ceremony were the second group of students who will be embarking on their 12 week career development journey in the coming weeks.
For more information on the Youth Career Development visit http://leaporg.net/programs/career-development-program/ or call 931.614.0440