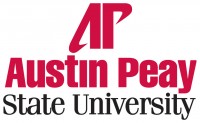 Clarksville, TN – Around the year 410 B.C., the Greek comic playwright Aristophanes wrote a play that caused many in his audience to blush.
When Darren Michael, Austin Peay State University associate professor of acting/directing, reread "Lysistrata" earlier this semester, he realized little has changed in the last two thousand years.
"People think just because it's classical, it's not lewd," he said. "It's incredibly lewd and bawdy. This is an adult play. There's lots of colorful language. It was incredibly bawdy at the time, but when you translate it for today, it doesn't get any cleaner."
At 7:30pm on April 17th-20th, and at 2:00pm on April 21st, the APSU Area of Theatre and Dance will present a vaudeville-esque interpretation of the classical work in the Trahern Theatre. Tickets are $5.00 for students and $10.00 for adults.
The play has remained popular for more than two millennia because of its humorous presentation of an anti-war message. "Lysistrata" tells the story of how Greek women end a long, drawn-out war by refusing to be intimate with men until the conflict is over.
"It's a farce," Michael said. "The whole premise is that men can't do without sex. It's fun and over the top, and there's a big dance number at the end."
Michael warns that though the play is incredibly entertaining, it may not be suitable for young audiences.
For more information, contact the APSU Area of Theatre and Dance at 931.221.6767. To purchase tickets online, visit www.austinpeaytickets.com.