Clarksville, TN – On April 10th, 2013 at 10:14pm, Clarksville Police Officer C MacMillan responded to a Domestic Violence with Aggravated Assault at 3366 Cotham Drive.
A witness observed saw Toron Thomas choking a 22 year old female. Thomas then physically dragged the woman to her car and forced her inside.
They traveled west on Tiny Town Road and continued arguing until Thomas became enraged and yanked the steering wheel to the right. This caused the vehicle to leave the roadway and flip over in the area of 801 Tiny Town.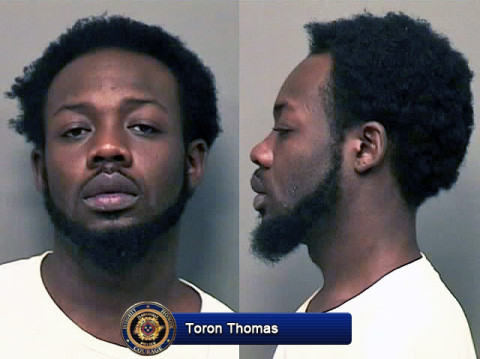 All of the occupants, including the female victim fled from the scene of the crash. All, but one, of the occupants who fled from the vehicle were caught and questioned.
Thomas provided false information to the officers about facts associated with the incident. Thomas was medically cleared at Gateway ER and then booked into Montgomery County jail.
Toron Thomas
Name: Toron Thomas
Race: B
Gender: M
DOB: 1/5/89
Given address: 2010 Windroe Drive, Clarksville, TN
Arresting Officer: Christopher MacMillan
Charged With: Aggravated Assault, Reckless Endangerment x 3, Aggravated Kidnapping, and False Report
Booked Into: Montgomery County Jail
Bond: $20,000.