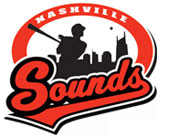 Papillion, NE – Stephen Parker's sixth-inning home run put the Sounds in front for good as Nashville defeated the division-rival Omaha Storm Chasers by an 8-5 margin on a chilly Saturday evening at Werner Park.
With the win, Nashville (4-5) snapped a three-game losing streak. The Sounds rapped out 12 hits on the night, including two-hit efforts by five different players.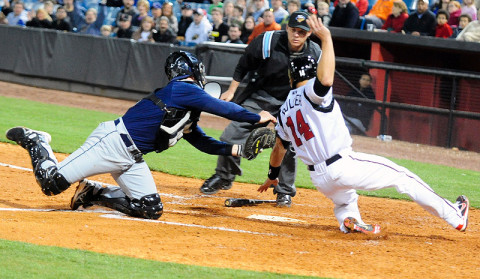 Nashville broke a scoreless tie in the third on Sean Halton's bases-loaded, two-run double into the right field corner off Omaha left-hander Everett Teaford. The two-bagger plated Scooter Gennett and Caleb Gindl and chased the Storm Chasers' spot starter from the contest.
Cole Garner (2-for-5) greeted new Omaha hurler Atahualpa Severino with a first-pitch, three-run homer to left, a line-drive shot that barely cleared the wall and upped the Nashville lead to 5-0. The three-run blast was the outfielder's third roundtripper of the season, tying Hunter Morris for the team lead.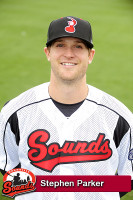 Omaha got on the board in the home half of the third when Christian Colon recorded the club's first hit of the night, a towering two-run homer to left off Sounds starter Zach Kroenke that made it a 5-2 contest. The homer, which also scored David Lough, was the shortstop's second tater of the year.
The Sounds' lead evaporated in the fifth as the Storm Chasers sent eight men to the plate and scored three runs after loading the bases with no outs against Kroenke.
After Omaha filled the bags against the Nashville southpaw on a pair of walks followed by a fielder's choice bunt that was curiously ruled a hit, Jesus Sanchez took over on the hill and was greeted by a Colon single to right on a 3-2 pitch that reduced the lead to 5-3. After the Nashville right-hander walked Johnny Giovatella to force home Paulo Orlando, Xavier Nady lifted a game-tying sacrifice fly to right that brought home Lough to even the game at 5-5. Garner's throw beat Lough to plate on the play but catcher Anderson De La Rosa was unable to handle it.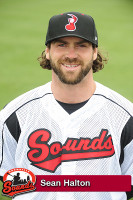 Kroenke allowed only two hits in his four-plus innings of work but walked five batters en route to allowing five runs and took a no-decision in his second start of the year for Nashville. He threw 35 balls and 31 strikes in the outing.
Parker (2-for-4) wasted little time putting the Sounds back in front, leading off the sixth inning with an opposite-field solo homer to left that greeted veteran Omaha reliever Dan Wheeler. Parker's second big fly in as many nights against the Storm Chasers put Nashville on top, 6-5.
The Sounds tacked on a pair of insurance runs in unearned fashion against Wheeler in the eighth. Gennett extended his season-opening hitting streak to seven games with a one-out RBI single to right. Joey Paciorek, who reached on a fielding error by Giovatella at second base, scored on the play to increase the Nashville lead to 7-5. After Omaha brought Michael Mariot to the hill, the Sounds' lead grew to three when Ozzie Chavez (2-for-4) trotted home from third on Gindl's fielder's choice grounder.
Sanchez (1-0) picked up the victory for the Sounds despite allowing his three inherited runners to score in his one inning of work. Wheeler (1-2) drew the loss for Omaha.
The Nashville bullpen continue its outstanding work. Behind Sanchez, Michael Olmsted (2.0 IP) and Travis Webb (1.0 IP) turned in scoreless relief efforts before Rob Wooten worked around a pair of ninth-inning baserunners to close out the victory and notch his third save of the year.
The teams continue the series with a 2:05pm matinee on Sunday afternoon. Right-hander Tyler Thornburg (0-0, 3.60) will man the bump for the Sounds to face Omaha right-hander Brian Sanches (0-0, 3.60).
Box Score
| | 1 | 2 | 3 | 4 | 5 | 6 | 7 | 8 | 9 | | R | H | E |
| --- | --- | --- | --- | --- | --- | --- | --- | --- | --- | --- | --- | --- | --- |
| Nashville Sounds | 0 | 0 | 5 | 0 | 0 | 1 | 0 | 2 | 0 | | 8 | 12 | 0 |
| Omaha Storm Chasers | 0 | 0 | 2 | 0 | 3 | 0 | 0 | 0 | 0 | | 5 | 6 | 2 |
BATTING
2B: Halton (2, Teaford).
HR: Garner (3, 3rd inning off Severino, 2 on, 1 out), Parker, S (2, 6th inning off Wheeler, 0 on, 0 out).
TB: Chavez, O 2; Garner 5; De La Rosa, A; Halton 3; Parker, S 5; Gennett; Morris 2.
RBI: Halton 2 (4), Garner 3 (7), Parker, S (2), Gennett (2), Gindl (2).
Runners left in scoring position, 2 out: Halton 2; Paciorek; Gennett; Parker, S.
Team RISP: 3-for-11.
Team LOB: 8.BASERUNNING
SB: Parker, S (1, 2nd base off Teaford/Moore), De La Rosa, A (1, 2nd base off Wheeler/Moore).FIELDING
DP: (Chavez, O-Gennett-Morris).
BATTING
2B: Giavotella (4, Olmsted).
HR: Colon, C (2, 3rd inning off Kroenke, 1 on, 2 out).
TB: Giavotella 2; Lough 2; Colon, C 5; Nady.
RBI: Colon, C 3 (6), Giavotella (4), Nady (5).
2-out RBI: Colon, C 2.
Runners left in scoring position, 2 out: Nady 2; Falu; Moore 2; Giavotella.
SF: Nady.
GIDP: Moore.
Team RISP: 3-for-11.
Team LOB: 7.BASERUNNING
SB: Giavotella (2, 2nd base off Kroenke/De La Rosa, A), Lough (2, 2nd base off Kroenke/De La Rosa, A).FIELDING
E: Nady (3, fielding), Giavotella (1, throw).
Kroenke pitched to 3 batters in the 5th.
WP: Teaford.
HBP: Taveras (by Wooten).
Pitches-strikes: Kroenke 66-31, Sanchez, Je 26-14, Olmsted 28-17, Webb 19-13, Wooten 26-19, Teaford 45-31, Severino 41-25, Wheeler 42-29, Mariot 20-13.
Groundouts-flyouts: Kroenke 9-1, Sanchez, Je 0-2, Olmsted 2-0, Webb 1-0, Wooten 0-0, Teaford 4-0, Severino 3-1, Wheeler 3-2, Mariot 3-0.
Batters faced: Kroenke 19, Sanchez, Je 5, Olmsted 7, Webb 3, Wooten 5, Teaford 13, Severino 10, Wheeler 14, Mariot 6.
Inherited runners-scored: Sanchez, Je 3-3, Severino 2-2, Mariot 2-1.
Umpires: HP: Marcus Pattillo. 1B: Alex Ortiz. 3B: Mark Ripperger.
Weather: 53 degrees, partly cloudy.
Wind: 16 mph, R to L.
T: 3:24.
Att: 4,315.