Bowling Green, KY – Austin Peay State University women's track and field team kept it local to great result at this weekend's Hilltopper Relays, hosted by Western Kentucky.
"We didn't get any wins, but we placed a number of people very high," said head coach Doug Molnar. "After having the off week, this really gets us back into the swing of things with a good day. Last week's training was great and now we just have to keep it moving forward."
Freshman Breigh Jones had an outstanding day in Bowling Green. The Memphis native placed third in the 400m dash with a personal-best 55.37 mark, and broke 25 seconds for the first time in the 200m, finishing seventh with a 24.96.
Sophomore Erika Adams placed third in the 100m dash at 12.10. She and three freshmen (Jones, Lamontra Robinson and Anotonia Stevenson) combined to bring the Lady Govs a season-best in the 4x100m relay, finishing fifth with a 47.73 mark.
Natalie Olberding shined again Saturday, with a personal-best 1:02.63 mark placing the sophomore third in the 400m hurdles. Senior Lauren Lyles placed eighth in the 100m hurdles with a 14.71 mark.
"Natalie had a personal-best and didn't have her best race," Molnar said. "She was in the back of the pack at the halfway point and really recovered well."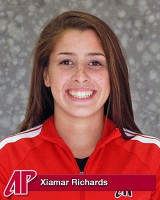 Junior Xiamar Richards was busy again, running a runner-up 1500m run with a personal-best 4:38.83 and bouncing back a short time later with a fifth-place, 2:20.11 run in the 800m event.
Junior Kendra Kirksey was runner-up in the 3000m steeplechase, with an 11:44.42 run.
In the field, senior Nichole Bressner placed sixth in the pole vault with a 3.30m mark, just shy of her personal-best 3.50m height at the APSU Invitational two weeks ago.
Elsewhere on Saturday, senior Chantelle Grey netted a fourth-place finish in the 800m Showcase run at the Sea Ray Relays in Knoxville; her season-best 2:08.68 mark moved her into 38th in the NCAA East.
"Her place was good," Molnar said. "We may have worked her a little too hard this week. She said she felt a little off the whole race; too not feel your best and hit her time is outstanding."
The Lady Govs continue their outdoor season at next weekend's Vanderbilt Invitational.