APSU Sports: Austin Peay Men's Tennis

Clarksville, TN – A 14-match winning streak came to an end for Austin Peay State University men's tennis team, Saturday. The Govs dropped a 5-2 decision to Tennessee Tech at the Austin Peay Tennis Courts.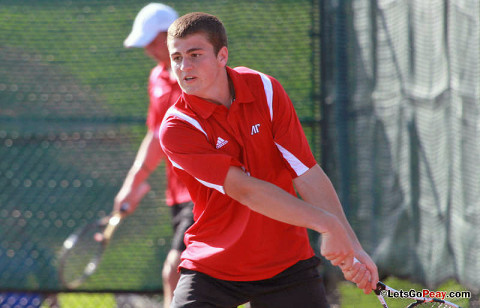 Austin Peay (14-3, 7-1 OVC) saw its school-record win streak and hopes for the Ohio Valley Conference regular-season title come to an end at the same time, Saturday. Tennessee Tech (8-9, 8-0 OVC) clinches the regular season title and the No. 1 overall seed at next weekend's OVC Tournament Championships in Paducah, Ky.
"Obviously, this isn't what we were looking for today," said head coach Ross Brown. "I think it will make us sharper for the conference tournament. Tennessee Tech is a good team, but I would feel good about it if we were to play them again in the tournament."
For the first time since March 5th, the Govs lost the doubles point, with Sean Bailey and Jasmin Ademovic falling to Syrym Abdukhalikov and Alejandro Augusto, 8-2, at No. 1.
"I thought we were pretty passive today," Brown said. "It really came down to doubles being flat, and that hurt us."
Three of the Govs four double-digit win streaks were snapped, including sophomore Aleksas Tverijonas' 14-0 spring dual mark; he fell at No. 4 to Vasily Eremeev, 6-3, 7-5. Sophomore Dimitar Ristovski kept his streak alive, defeating Artem Tarasov, 7-5, 6-0, at No. 3 singles to win his 15th consecutive match.
Senior John Storie netted the other victory for the Govs, defeating Alvaro Cintas, 7-6, 6-2, at No. 5 singles.
"All the teams in our conference are good," Brown said. "We've got to make sure we take it one at a time again. A couple of our guys didn't play well today, and that puts a team in a hole. I think we can play better than what we showed today."
The Govs close out the regular season Sunday at the Austin Peay Tennis Courts, hosting Jacksonville State in a 2:00pm match.
Box Score
Tennessee Tech 5, Austin Peay 2
April 13th, 2013 at Clarksville, TN
Singles competition
1. Syrym Abdukhalikov (TTU) def. BAILEY, Sean (APSU) 6-4, 6-2
2. Alejandro Augusto (TTU) def. ADEMOVIC, Jasmin (APSU) 6-3, 6-4
3. RISTOVSKI, Dimitar (APSU) def. Artem Tarasov (TTU) 7-5, 6-0
4. Vasily Eremeev (TTU) def. TVERIJONAS, Aleksas (APSU) 6-3, 7-5
5. STORIE, John (APSU) def. Alvaro Cintas (TTU) 7-6, 6-2
6. Arturo Santa Ruiz (TTU) def. BOROWSKI, Evan (APSU) 6-4, 6-1
Doubles competition
1. Syrym Abdukhalikov/Alejandro Augusto (TTU) def. BAILEY, Sean/ADEMOVIC, Jasmin (APSU) 8-2
2. Artem Tarasov/Vasily Eremeev (TTU) def. RISTOVSKI, Dimitar/SEFFRIN, Iago (APSU) 8-4
3. TVERIJONAS, Aleksas/STORIE, John (APSU) vs. Othon Lima/Alvaro Cintas (TTU) 5-4, unfinished
Match Notes
Tennessee Tech 8-9
Austin Peay 14-3