APSU Sports: Austin Peay Baseball

Clarksville, TN – Austin Peay's baseball team begins the second half of its Ohio Valley Conference race when it hosts league-leading Belmont in a three-game series, beginning with a 6:00pm, Friday contest at Raymond C. Hand Park.

The Govs have lost their last two OVC series – to second-place Tennessee Tech and fifth-place Southeast Missouri – entering this weekend's set yet remain fourth in the league race.

Belmont has powered out to a 13-2 OVC mark at the halfway point with one loss in its last 12 league outings – an April 6th loss at UT Martin.
Austin Peay Governors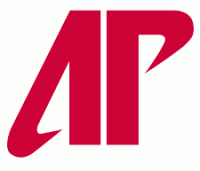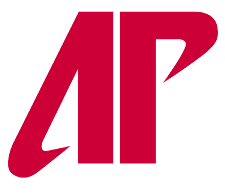 After reaching the season's halfway mark with a 23-5 record, Austin Peay has struggled to start the second half, posting a 3-6 record and has a loss in six of its last seven outings. Austin Peay ended last week fourth in the OVC race with a 9-5 league mark, but have fallen 3½ games behind league-leading Belmont (13-2), which is followed by Tennessee Tech (15-3) and Jacksonville State (12-3).
The Govs performance has suffered in all aspects during the second half's start with the team batting just .266 (.300 at the half), recording 15 errors in 9 games (34 in first 28) and posting a 5.51 ERA (a 4.61 ERA at the half),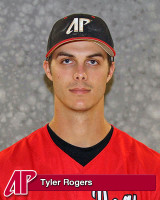 Senior closer Tyler Rogers was named to the initial watch list of the 2013 Pitcher of the Year Award, presented by the College Baseball Hall of Fame. Junior catcher P.J. Torres was added to the watch list for the Johnny Bench Award (the nation's top catcher) presented by the Wichita Sports Counci.
Junior first baseman Craig Massoni leads APSU in all three triple crown categories: batting average (.362, 6th in OVC), home runs (7, 6th) and RBI (40, 3rd). Junior second baseman Jordan Hankins became the 16th Govs hitter to record 200 career hits, doing so in 158 games and 580 at-bats.
Junior right fielder Rolando Gautier saw his hit streak end at 16 games, Sunday, it was the longest hit streak by a Governor this season. Junior third baseman Kevin Corey's six-game hit streak is now the Govs longest active streak and he led APSU with a .500 batting average (7-for-14) in last week's five games.
Senior left fielder Cody Hudson did not start at Southeast Missouri, Sunday, ending a streak of 83 consecutive games started, but he entered the game late and was 1-for-2 with a run scored. Sophomore center fielder Dylan Riner saw his streak of 16 consecutive games reaching base safely come to an end Sunday at Southeast Missouri.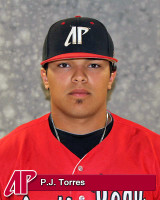 Senior catcher P.J. Torres, who has appeared in all 37 games this season, has reached base safely in 14 consecutive games – the Govs longest active streak. Senior shortstop Reed Harper had 6 hits and 4 RBI during last week's four games, including his season's second triple at Southeast Missouri, Sunday. Junior designated hitter Michael Davis had four hits, including two doubles and a home run, in last week's five games.
Junior right-hander Lee Ridenhour will take the mound to start the series, with a 4-0 mark and 2.31 ERA in five previous OVC starts. Senior Casey Delgado will make his 6th OVC start as the Govs No. 2, with a 3-1 record and .366 ERA in league play. Junior southpaw Zach Hall will take the mound for Sunday's start, it will be his second OVC start and first since a Game 3 start against Jacksonville State where he did not make it past the first inning.
Belmont Bruins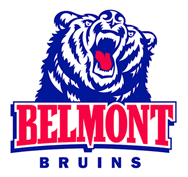 After losing its OVC opener to Southeast Missouri, April 8th, Belmont strung together a nine-game league win streak before suffering its second conference loss at UT Martin, April 6th. The Bruins bounced back with an impressive sweep of SIU Edwardsville (7-4, 5-3 and 25-7) last weekend.

OVC Preseason Pitcher of the Year Chase Brookshire, a southpaw, has missed the past two conference weekends but leads the league with a 1.15 overall ERA, including a 0.41 ERA (1 ER in 22 IP) in league action.

Left-handed Dan Ludwig, the projected Game 1 starter, has posted a 3-0 record and 2.96 ERA in conference action with 18 strikeouts in 27.1 innings pitched, while right-hander Austin Coley is the Bruins' probable Game 2 starter and is 4-0 with a 2.76 ERA in OVC play, with 38 strikeouts in 29.1 innings pitched.

Senior first baseman Judah Akers is third among OVC hitters with a .647 slugging percentage this season, including an league-best 10 home runs, and his team-leading .331 batting average ranks 14th among league hitters. Sophomore center fielder Drew Ferguson is the league leader in on-base percentage (.497) thanks to a league-best 32 walks and his 12 times hit by a pitch ranks second in the league.
The Governors-Bruins Series
Austin Peay and Belmont have met annually since 1998, but will meet for the first time as Ohio Valley Conference members. The Govs lead the all-time series, which dates back to 1954, 55-32, including a 20-15 edge at home since 1962. The Bruins have won five of the last seven meetings – all in the past four seasons – including both ends of a home-and-home series last season – 6-2 in Clarksville and 4-3 in Nashville.
Just the Facts
After posting a 23-5 mark in the season's first half, Austin Peay has struggled out of the gate in the second half – posting a 3-6 mark, including six losses in its last seven games. The recent slump has dropped APSU to 26-11 overall, one-game behind the program's best 37-game mark (27-10) set by the 1971 OVC Championship Team, which did not record its 12th loss until its 43rd game (31-12 mark).

Austin Peay dropped to No. 13 in CollegeBaseballDaily.com Mid-Major Top 25 Poll after its 1-4 week. Louisville returned to the poll's top spot in its April 15th edition. The Govs are surrounded by No. 11 Notre Dame, No. 12 Missouri State, No. 14 Florida Gulf Coast and No. 15 Sam Houston State. The Mid-Major Poll includes all baseball conferences except the ACC, Big 12, Big West, Conference USA, Pac 12 and the SEC.

Closer Tyler Rogers was one of 41 pitchers from across the country named to the initial watch list for the 2013 Pitcher of the Year Award, sponsored by Diamond Sports and presented by the College Baseball Hall of Fame. He was joined by Belmont's Josh Davis as the OVC's two representatives on the list.

Catcher P.J. Torres was one of 15 additions to the Johnny Bench Award presented by BaseballSavings.com, April 9th. He was joined on the watch list by Tennessee Tech's Jordan Parris, as the only OVC representatives on the list. The award is presented to the top Division I catcher each season. The watch list will be pared to a list of semifinalists, May 16th, and then a list of finalists, June 4th.
Hankins joins Harper and Hudson in 200-Hit Club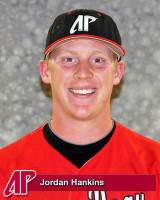 Second baseman Jordan Hankins became the 16th member of Austin Peay's 200-hit club with his ninth-inning single, April 14th at Southeast Missouri. He joined shortstop Reed Harper and outfielder Cody Hudson as current Governors with 200 or more hits in their careers.
It is only the second time in program history three Govs with 200-plus hits have been on the same team, joining Nate Manning, Chuck Abbott and Ryan Bennett on the 1996 team.
Media Center
Radio: Governors Sports Network
Online Audio: www.LetsGoPeay.com
Twitter: @APSUBaseball
Probable Starting Pitchers
Date




Start

Austin Peay Starter


Opponent Starter

Friday
6:00pm
RHP Lee Ridenhour (RJr., 6-0, 2.20 ERA)
LHP Dan Ludwig (So., 7-1, 2.90 ERA)
Saturday
2:00pm
RHP Casey Delgado (Sr., 5-2, 4.61 ERA)
RHP Austin Coley (So., 6-0, 3.29 ERA)
Sunday
1:00pm
LHP Zach Hall (Jr., 3-2, 6.69 ERA)
TBA
Sections
Sports
Topics
ACC, APSU, APSU Athletics, APSU Baseball, APSU Men's Baseball, APSU Sports, Austin Coley, Austin Peay, Austin Peay State University, BaseballSavings.com, Belmont, Big 12, Big West, Bruins, Chase Brookshire, Clarksville TN, College Baseball Hall of Fame, Collegebaseballdaily.com, COnference USA, Dan Ludwig, Diamond Sports, Drew Ferguson, ERA, Florida Gulf Coast, Govs, Johnny Bench Award, Jordan Parris, Josh Davis, Judah Akers, Louisville, Mid Major Poll, Missouri State, Notre Dame, Ohio Valley Conference, OVC, OVC Championship Team, OVC Pitcher of the Year, P.J. Torres, Pac-12, Raymond C. Hand Park, Sam Houston State, SEC, SEMO, SIU Edwardsville, Southeast Missouri, Tech, Tennessee, Tyler Rogers, UT-Martin