Clarksville, TN – On April 13th, in the midst of more than 200 runners, walkers and community supporters members of the Relay For Life Leadership joined the Breast Cancer 5k effort at Austin Peay State University.
Leadership Team members Karen Davis, Brittnye Farley, Paul Farley and Cydney Miller volunteered to assist with guiding and encouraging the runners and walkers on the 5k route.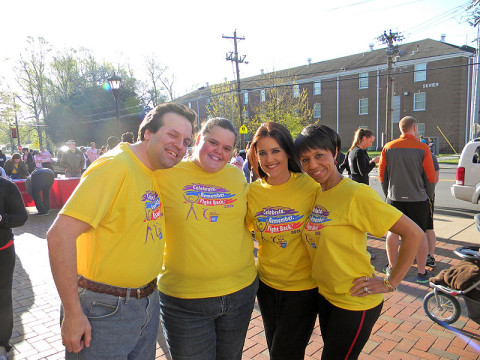 With the proceeds being earmarked for Breast Cancer treatment and research, the Montgomery County Relay For Life team was very excited about participating in the effort since the Relay For Life effort supports the battle against all forms of cancer.
The Breast Cancer 5k is one of a number of activities held in support of the American Cancer Society's battle against cancer.  Montgomery County Relay For Life will celebrate the courageous fight of cancer breast cancer and all cancer survivors in the Clarksville Community at its Annual Survivors Dinner at 6:30pm on May 7th at the Hilldale Baptist Church Family Life Center, 250 Old Farmers Road, Clarksville, Tennessee.
To confirm attendance at the Annual Survivors Dinner, contact Paula Williams via email at wogwilliams@hotmail or Joan Farmer at 931.980.1824.
The world's largest grassroots fundraising movement, Relay For Life, mobilizes communities throughout the country to celebrate people who have battled cancer, remember loved ones lost and provide participants with an opportunity to fight back against the disease.
Relay brings together friends, families, care providers, businesses, hospitals, schools, faith-based groups . . . people from all walks of life – all aimed at furthering the American Cancer Society's vision of creating a world with less cancer and more birthdays. The Relay For Life effort is an opportunity to get involved for community members of all ages.
For more information on what you can do to join our fight against cancer visit our website at www.relayforlife.org