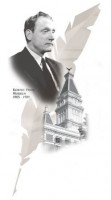 Clarksville, TN – The Clarksville Arts and Heritage Development Council, in partnership with Austin Peay State University and the Tennessee Arts Commission, is pleased to announce the Ninth Annual Clarksville Writers Conference, being held June 6th and 7th, 2013, on the campus of Austin Peay State University.
We are very honored to have as this year's keynote speaker Frye Gaillard, who has written extensively on Southern race relations, politics and culture as the author or editor of over twenty books, including Cradle of Freedom: Alabama and the Movement That Changed America and The Books That Mattered: A Reader's Memoir.
Gaillard, writer-in-residence at the University of South Alabama, will speak at Thursday evening's banquet at Freedom Point at Liberty Park, overlooking the beautiful Cumberland River and historic downtown Clarksville.
The conference banquet will be encompassed by two days of interesting presentations and valuable workshops on Thursday and Friday, June 6th and 7th.
Authors scheduled to speak include
Janine Boldrin, freelance journalist for Military Spouse magazine and author of e-book The Thinking Spouse's Guide to Military Life;
Beth Ann Fennelly, award-winning poet (Unmentionables, Open House, Tender Hooks) and co-author of forthcoming novel The Tilted World;
Tom Franklin, New York Times bestselling author of Crooked Letter, Crooked Letter, co-editor of anthology Grit Lit: A Rough South Reader, and co-author of forthcoming novel The Tilted World;
Rheta Grimsley Johnson, journalist, syndicated columnist and author of the memoirs Hank Hung the Moon and Enchanted Evening Barbie and the Second Coming;
Dale Ray Phillips, short story writer and author of the Pulitzer Prize-nominated collection My People's Waltz;
Adam Ross, author of 2010 New York Times Notable Book Mr. Peanut and short story collection Ladies and Gentlemen;
Chuck Sambuchino, editor of Writer's Digest's Guide to Literary Agents and author of Formatting & Submitting Your Manuscript and Create Your Writer Platform;
Ann Shayne, former editor of book review BookPage and author of novel Bowling Avenue and Mason-Dixon Kitting: The Curious Knitter's Guide;
George Singleton, author of often humorous short story collections and novels, including Stray Decorum, Work Shirts for Madmen and Pep Talks, Warnings, And Screeds: Indispensable Wisdom And Cautionary Advice For Writers.
In addition to the scheduled presentations and workshops, free manuscript consultations with two literary agents will be available to conference participants:
Debbie Carter, literary agent with Muse Literary Management in New York City;
Gina Panettieri, literary agent with Connecticut-based Talcott Notch Literary Services.
A limited number of query letter critiques with Chuck Sambuchino will also be available for an additional charge of $25.00.
A complete package including all conference activities is offered, as well as a la carte options. Discounted rates are available for early registration, which is postmarked on or before May 23rd, 2013. (Late registration is postmarked between May 24th and May 30th, 2013.)
Visit the conference website at www.artsandheritage.us/writers for author bios, the conference schedule, registration information and more.
The 2013 Clarksville Writers Conference is made possible in part through the generous support of the Tennessee Arts Commission, City of Clarksville, Austin Peay State University, Dr. Howard and Patricia Winn, Gannett Foundation / The Leaf-Chronicle, APSU Office of President Tim Hall, Greater Nashville Regional Council and the Customs House Museum and Cultural Center.
Additional sponsors include the Fort Campbell Officers' Spouses' Club, Drs. David and Jennie Beth Johnston, Dee Boaz, Jeanie Page Randall, Jean and Wendell Gilbert, and Wade and Rebecca Bourne.
The conference was developed in 2005 by Patricia Winn.