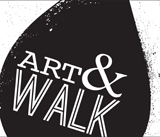 Clarksville, TN – Produced by The Downtown Clarksville Association, First Thursday Art Walk is a free, self-guided tour spanning a 5-block radius that combines visual art, live music, engaging events and more in the heart of Downtown Clarksville.
With 10+ venues, bars and businesses participating each month, the First Thursday Art Walk in Clarksville is the ultimate opportunity to savor and support local creative talent.
For the month of May, the Art Walk will be held on Thursday, May 2nd from 5:00pm to 8:00pm at the shops and galleries on Public Square, Franklin Street, and Strawberry Alley. The participating businesses are listed below as well as a description of the work they will be exhibiting and services they will be offering during the event.
Hodgepodge (125 Franklin Street) will proudly host "Sky Fell", Shane Moore's photography exhibit loosely based on a theme of sky and shadow.
Shane is mainly a landscape photographer, but not in the traditional sense. His work is not always about the big picture and beautiful, sweeping landscapes, but more about elements within landscapes where light and darkness mix to illuminate or shadow something overlooked, beautiful, man-made or out of place.
Shane travels around the region and world (when he can) to find subject matter that is interesting to him and does not set up shots; he goes wherever the wind takes him and finds images, mainly with his old 35mm/120mm film cameras and black and white film. Shane works mostly with traditional darkroom processes to create and manipulate his images.
Shane's opening reception will be Thursday, May 2nd at 5:00pm to 8:00pm and the exhibit will be up through the month of May.
For the May Art Walk, Rogate's Boutique (115 Franklin Street) will be showcasing Laura Pugh-Bailey's photographs.
Laura studied film photography at College of Southern Idaho in Twin Falls, Idaho. "After my husband retired from the Army and my daughter was in high school I started to take photography seriously again," says Laura. "Since then I have won 1st place in the photography division of the Downtown Artist Co-op's Regional Art Expo 2012 as well as 1st place Professional Landscape division at the DAC's Photography Expo 2013."
The Downtown Artists Co-op (96 Franklin Street) is an association of talented local artists and interested patrons dedicated to promoting the visual arts in the Clarksville-Montgomery County area.
Lynne Griffey is the solo artist having a reception at the DAC on May 2nd from 5:00pm to 8:00pm. The show is entitled "Feathered Freedom".  Lynne's inspiration from her enjoyment of her backyard birds make up her show.  It will run until May 31st.
The New South Coffee Company (110 Franklin Street) will be featuring live music performed by local musicians.
The Runner's Hub (127 Franklin Street) hosts group runs around Historic Downtown Clarksville every Thursday evening at 5:30pm. They will be hosting a group run on Art Walk Thursday evening at 5:30pm as well.
The Framemaker (705 North 2nd Street, Suite B) proudly presents photography by Melanie Davis as part of Clarksville's First Thursday ArtWalk. An opening reception will be held from 5:00pm to 8:00pm and the exhibit will remain on display at the Framemaker throughout the month of May during normal business hours (Monday through Friday 10:00am to 5:00pm).
Artist Melanie Davis was born in Waukegan, IL. After graduating from Columbia College in Chicago with a Bachelor of Arts in Photography, she worked as a location scout, a set designer and stylist, a product photographer, and a custom framer. She moved to Nashville in 2009 and currently works as a production assistant for a Nashville-based artisan jeweler. She is also a consultant for local businesses and artists through MAW Studios (Melanie at Work). Melanie's photos address the linear form of roadways, and their sweeping expanse through landscapes and urban architecture.
The Framemaker is located at the corner of North Second Street and Georgia Avenue, across from Clarksville Academy.
The Roxy Regional Theatre – Peg Harvill Gallery (110 Franklin Street) will display a group show by various local artists. All of the art and themes will be tied into the upcoming production of "Peter Pan" being featured at The Roxy Regional Theatre.
For tickets and more information please visit www.roxyregionaltheatre.org or call the box office at 931.645.7699.