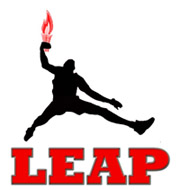 Clarksville, TN – On April 29th, 2013 the Alternative School auditorium was converted into a youth matinee that addressed Anti-bullying. Staff from the LEAP Organization opened the program by selecting volunteers to participate in skits that focused on forms of bullying that consisted of starting rumors and excluding others from various activities.
Following the skits, the students were given an opportunity to share some of their personal experiences with being bullied and being the bully.
"I was impressed with some of the transparency of the students who opened up about how being bullied negatively impacted them as well as those who acknowledged some of the reasons they bullied others." Commented Richard "Reason" Garrett who went on to share the reduction theory of how individuals with low self esteem often want to lower others self esteem so they don't feel as bad about themselves.
Sharon Edwards, shared some of her personal experiences with being bullied and the affect it had on her life until she discovered her true identity. After the program, a student passed her a note expressing his gratitude and the way he was touched by some of the personal accounts shared by the staff.