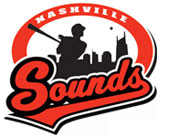 Round Rock, TX – The Nashville Sounds opened their road trip on the short end of an 8-5 defeat at the hands of the Round Rock Express on Saturday evening at The Dell Diamond in the opener of a four-game series.
The Sounds (17-37) continued their struggles away from Music City, losing for the 17th time in their last 21 road games.
Left-hander Martin Perez (2-1) defeated Nashville with a quality start, holding the Sounds to two runs on three hits while striking out five batters of his six frames of action.
Nashville pitchers were unable to produce any shutdown innings on the night. Each time the Sounds scored in the top of a frame, Round Rock rallied to score runs of its own in the home half.
Round Rock got off to a quick start offensively, jumping on Tyler Thornburg for three first-inning runs.
Engel Beltre led off the bottom of the first inning with a home run to right off the right-hander, the outfielder's first roundtripper of the year. Robinson Chirinos (3-for-4) followed Beltre with single before racing all the way home on Chris McGuinness' double off the right field wall to make it a 2-0 contest.
McGuinness moved to third on a throwing error by Scooter Gennett on the play and Aaron Cunningham drew a walk to put runners on the corners for Yangervis Solarte, who grounded into a double play to plate the third Express run of the frame as the Sounds minimized the damage in the frame with the twin-killing.
Beltre helped the Express with his glove in the second inning, leaping above the wall in center field to rob Hunter Morris of his 11th home run of the year with a spectacular catch.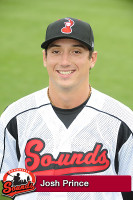 Shortstop Josh Prince (2-for-4) put the Sounds on the board in the third when he led off the frame with a solo homer to left off Perez, his fourth big fly of the year.
Round Rock got the run back in the home half of the frame against Thornburg when McGuinness ripped his second two-bagger of the night and later scored on a sacrifice fly to up the Express lead to 4-1.
The Sounds got a run back from Perez with a two-out rally against Perez in the fifth. After the first two batters had been retired, Nashville loaded the bases on a Prince bunt single followed by consecutive walks before Perez uncorked a wild pitch to allow Prince to race home to cut the deficit to 4-2. The Round Rock left-hander fanned Gennett, however, to escape the jam with a pair of runners stranded in scoring position.
The Express once again answered a Nashville score with a rally of their own in the bottom of the frame, plating two runs in the home half of the fifth to extend the lead to 6-2.
Chirinos and Solarte singled to put a pair of runners on board with two outs. Clay Hensley replaced Thornburg on the hill for the Sounds and was greeted by a bloop Jim Adduci RBI single that dropped into shallow right field. Cole Garner made a throwing error on the play to allow Solarte to score from first in unearned fashion.
Thornburg (0-7) remained winless on the year as he suffered another loss for the Sounds. He allowed six runs (four earned) on eight hits in his 4 2/3 innings of work to take his fifth defeat in his last seven starts.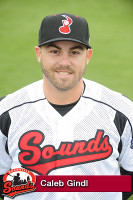 Caleb Gindl pulled Nashville back within a run with one swing of the bat in the top of the eighth inning, belting a three-run homer to right-center off Express reliever Yoshinori Tateyama. Blake Lalli (single) and Gennett (walk) each scored on the outfielder's sixth roundtripper of the year, which made it a 6-5 contest.
For the third time in the contest, Round Rock answered a Nashville score in the top of a frame with one of its own in the home half, netting two insurance runs against Kyle Heckathorn on a sacrifice fly and wild pitch to extend the advantage to 8-5.
Express closer Cory Burns slammed the door on the Sounds with a perfect ninth to notch his 12th save.
The teams continue the series with a 7:05pm on Sunday evening. Left-hander Zach Kroenke (2-7, 5.18) will start for the Sounds and face Round Rock right-hander Josh Lindlom (5-0, 2.15).
Box Score
Round Rock Express (31-25) 8, Nashville Sounds (17-37) 5
June 1st, 2013
1
2
3
4
5
6
7
8
9
R
H
E
Nashville Sounds
0
0
1
0
1
0
0
3
0
5
5
3
Round Rock Express
3
0
1
0
2
0
0
2
x
8
10
0
BATTING
2B
: Garner (4, Perez, M).
HR
: Prince (4, 3rd inning off Perez, M, 0 on, 0 out), Gindl (6, 8th inning off Tateyama, 2 on, 1 out).
TB
: Lalli; Prince 5; Garner 2; Gindl 4.
RBI
: Prince (19), Gindl 3 (31).
Runners left in scoring position, 2 out
: Gennett 2.
Team RISP
: 1-for-2.
Team LOB
: 3.
BASERUNNING
SB
: Prince (5, 2nd base off Perez, M/Felix, J).
PO
: Garner (2nd base by Perez, M).
FIELDING
E
: Gennett (3, throw), Morris, H (2, fielding), Garner (2, throw).
Outfield assists
: Halton (Felix, J at home).
DP
: (Prince-Gennett-Morris, H).
BATTING
2B: McGuiness 2 (18, Thornburg, Thornburg), Solarte (9, Heckathorn).
HR: Beltre (1, 1st inning off Thornburg, 0 on, 0 out).
TB: McGuiness 4; Adduci 2; Solarte 3; Chirinos 3; Beltre 4.
RBI: Beltre (10), McGuiness (31), Cunningham, A (24), Adduci (20), Felix, J (9).
2-out RBI: Adduci.
Runners left in scoring position, 2 out: Miclat; Beltre.
SAC: Miclat.
SF: Cunningham, A; Felix, J.
GIDP: Solarte.
Team RISP: 2-for-5.
Team LOB: 5.FIELDING
Pickoffs: Perez, M (Garner at 2nd base).
WP: Thornburg, Heckathorn, Perez, M.
IBB: Teahen (by Heckathorn).
HBP: Davis, K (by Tateyama).
Pitches-strikes: Thornburg 106-66, Hensley 20-17, Olmsted 8-8, Heckathorn 24-11, Perez, M 84-54, Tateyama 28-17, Robertson, N 4-3, Burns 12-8.
Groundouts-flyouts: Thornburg 3-4, Hensley 2-0, Olmsted 1-0, Heckathorn 2-1, Perez, M 5-4, Tateyama 1-0, Robertson, N 1-0, Burns 1-0.
Batters faced: Thornburg 23, Hensley 5, Olmsted 3, Heckathorn 6, Perez, M 22, Tateyama 8, Robertson, N 2, Burns 3.
Inherited runners-scored: Hensley 2-2, Robertson, N 1-0.
Umpires: HP: Quinn Wolcott. 1B: Spencer Flynn. 3B: Brandon Misun.
Weather: 96 degrees, partly cloudy.
Wind: 8 mph, Out to CF.
T: 3:08.
Att: 9,087.