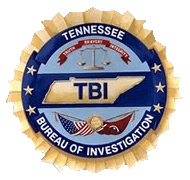 Nashville, TN -The Tennessee Bureau of Investigation today arrested a former Macon County correctional officer for having sex with an inmate while she was employed by the jail after she was indicted by the Macon County grand jury yesterday.
Wendy Deshay Carter, 42, of Lafayette, TN was indicted on five counts of sexual contact with inmates and five counts of official misconduct.
Between January 1st, 2012 and March 14th, 2013, shortly after she was hired by the jail, Carter began a sexual relationship with an inmate which lasted approximately a year.
Carter would disable surveillance cameras in the jail or seek locations without a surveillance camera to engage in sexual activity with the inmate.  She also exchanged nude photos and arranged sexual encounters with the inmate after providing him with a cell phone in the jail.
The 15th Judicial District Attorney General requested a TBI investigation in March of 2013.
Carter was booked into the Macon County Jail on $2,500 bond