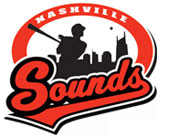 Nashville, TN – The New Orleans Zephyrs doubled up the Nashville Sounds, 6-3, on Friday evening in front of 6,921 fans at Greer Stadium in the opener of a four-game series.
Nashville out-hit New Orleans, 13-5, in the contest, getting knocks from every starter except Stephen Parker (0-for-3).
Outfielder Sean Halton went 3-for-4 to extend his longest hitting streak of the year to 10 games for Nashville. He is batting .500 (16-for-32) over the 10-game stretch, the Sounds' fourth double-digit streak of the season.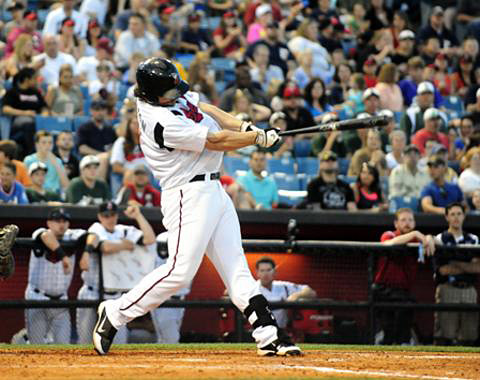 Cole Garner (3-for-4) and Anderson De La Rosa (2-for-4, two doubles) also added multiple-hit efforts in the losing affair.
The Sounds jumped out to a 2-0 lead in the bottom of the second inning against Z's starter Matt Neil.
Halton got things started with a one-out single and moved to third on a De La Rosa double before scoring the night's first run on Garner's Baltimore chop RBI single to the left side of the infield. Ozzie Chavez followed with a well-executed safety squeeze bunt to plate De La Rosa with the inning's second score.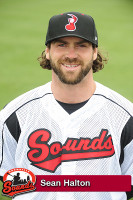 After starter Chris Narveson retired the first six New Orleans batters in order to start the contest, the Zephyrs sent all nine hitter in their lineup to the plate against the southpaw in the third inning to grab a 4-2 lead, capitalizing on a pair of Nashville fielding errors in the frame. Donovan Solano (2-for-5)and Kevin Kouzmanoff recorded RBI singles during the inning.
Kouzmanoff drove in his second run of the night in the fifth when his sacrifice fly to right plated Gorkys Hernandez to up the visitors' lead to 5-2.
Narveson (0-2) suffered the loss in his fourth rehab outing with the Sounds, allowing five runs (three earned) on  three hits while walking five batters and striking out four in his 4 2/3 innings of work.
New Orleans left fielder Jake Smolinski made it a 6-2 contest in the sixth when he drilled a leadoff solo homer to left off Michael Olmsted for his fourth roundtripper of the year.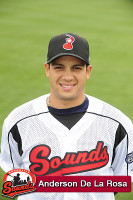 The Sounds missed out on an opportunity to cut into the deficit in the sixth. After loading the bases with one out against Neil, Z's reliever Zach Phillips took over on the hill and induced an inning-ending double-play groundout from Chavez to squelch the threat.
Neil (2-2) earned a win for New Orleans after holding the Sounds to two runs over his 5 2/3 frames of action, striking out seven batters.
Nashville mounted a rally in the ninth against Zephyrs reliever Jonathan Albaladejo. After De La Rosa led off with a double but was thrown out trying to extend the play to a triple, Garner doubled off the batter's eye and scored on pinch-hitter Hainley Statia's ensuing RBI single to right to cut the lead to 6-3. Albaladejo fanned Khris Davis for the second out and Z's closer Chris Hatcher was summoned to fan Blake Davis for the final out to nail down his league-leading 21st save of the year.
The teams continue the series with a 6:35 p.m. contest on Saturday. Right-hander Mike Fiers (1-1, 1.23) will make the start for Nashville on his 28th birthday and face New Orleans right-hander Jared Rogers (1-1, 4.91).
It will be the Sounds' third Faith Night of the season, featuring a pregame concert by Chris August. A postgame fireworks spectacular, presented by Nashville's News 2. Gates open at 5:05pm.
Box Score
New Orleans Zephyrs (34-35) 6, Nashville Sounds (23-43) 3
June 14th, 2013
1
2
3
4
5
6
7
8
9
R
H
E
New Orleans Zephyrs
0
0
4
0
1
1
0
0
0
6
5
0
Nashville Sounds
0
2
0
0
0
0
0
0
1
3
13
2
BATTING
HR: Smolinski (4, 6th inning off Olmsted, 0 on, 0 out).
TB: Solano, D 2; Kouzmanoff; Smolinski 4; Green, N.
RBI: Hernandez, Go (10), Solano, D (2), Kouzmanoff 2 (17), Smolinski (12).
2-out RBI: Kouzmanoff.
Runners left in scoring position, 2 out: Mahoney 2; Kouzmanoff.
SAC: Neil.
SF: Kouzmanoff.
GIDP: Green, N.
Team RISP: 2-for-8.
Team LOB: 7.BASERUNNING
SB: Hernandez, Go (17, 2nd base off Narveson/De La Rosa, A).FIELDING
Outfield assists: Mattison (De La Rosa, A at 3rd base).
DP: 2 (Solano, D-Mahoney, Green, N-Solano, D-Mahoney).
a-Singled for Dillard in the 9th.
BATTING
2B: De La Rosa, A 2 (11, Neil, Albaladejo), Garner (5, Albaladejo).
TB: Chavez, O; Prince; Garner 4; De La Rosa, A 4; Halton 3; Davis, B; Morris, H; Statia.
RBI: Garner (16), Chavez, O (6), Statia (8).
Runners left in scoring position, 2 out: Narveson; De La Rosa, A 2.
SAC: Chavez, O.
GIDP: Chavez, O, Morris, H.
Team RISP: 4-for-10.
Team LOB: 7.BASERUNNING
CS: Chavez, O (1, 2nd base by Neil/Hill, K).FIELDING
E: Davis, B (8, fielding), Chavez, O (1, throw).
DP: (Parker, S-Prince-Morris, H).
WP: Narveson.
Pitches-strikes: Neil 100-69, Phillips 28-18, Albaladejo 19-12, Hatcher 6-4, Narveson 80-41, Olmsted 25-14, Webb 27-13, Dillard 11-7.
Groundouts-flyouts: Neil 2-6, Phillips 2-0, Albaladejo 1-0, Hatcher 0-0, Narveson 5-4, Olmsted 1-1, Webb 3-0, Dillard 1-1.
Batters faced: Neil 25, Phillips 6, Albaladejo 5, Hatcher 1, Narveson 23, Olmsted 6, Webb 6, Dillard 5.
Inherited runners-scored: Phillips 3-0, Hatcher 1-0, Olmsted 2-0.
Umpires: HP: Shaun Lampe. 1B: Stu Scheurwater. 3B: Kellen Levy.
Weather: 82 degrees, partly cloudy.
Wind: 6 mph, L to R.
T: 3:02.
Att: 6,921.
Venue: Herschel Greer Stadium.
June 14, 2013