Nashville's R.J. Seidel Fans Seven In Winning Effort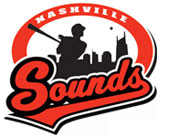 Metairie, LA – After heading into the All-Star Break having lost nine of their last 10 games, the Nashville Sounds got off on the right foot Thursday night at Zephyr Field, winning their first game back by a 3-1 margin over the New Orleans Zephyrs.
After the one-hour and 48-minute rain delay preceding the game, Sounds catcher Robinzon Diaz, 2-for-4, recorded Nashville's first hit of the night in the fourth inning with a single to centerfield. The 29-year-old gave the Sounds a two-run lead in the following inning on a two-out single to right-centerfield that scored two runs.
Nashville's Cole Garner drew a lead-off walk in the fifth inning, and Scooter Gennett and Josh Prince connected for two-out singles to load the bases for Diaz's go-ahead knock.
The Sounds added a run in the sixth inning, playing small ball to plate Kentrail Davis with the safety squeeze to make it 3-0. Davis reached base on a fielder's choice, moved to second on a wild pitch, and advanced to third on Garner's bunt single before Stephen Parker got the RBI with his sacrifice bunt.
Starting pitcher R.J. Seidel (2-4) commanded Nashville from the hill, limiting the Z's to four hits and one run, a Kevin Mattison home run in the sixth. The right-hander fanned seven batters and walked none en route to his second victory of the season.
Zach Kroenke came to the mound in the sixth to relieve Seidel, but allowed singles to the next two batters. Michael Olmsted entered to close the inning with a strikeout. Olmsted returned for a 1-2-3 seventh inning. Reliever Kyle Heckathorn also worked a scoreless eighth.
Sounds all-star Rob Wooten entered in the bottom of the ninth and beaned Bryan Petersen to bring the tying run to the plate. One fly out and double-play later, Wooten recorded his 19th save.
Lefty Brian Flynn was charged with the loss for New Orleans, giving up three runs on six hits over six innings of work.
The Sounds will play game two against the Zephyrs Friday night at Zephyr Field. Throwing for Nashville will be LHP Aaron Laffey (4-3, 5.69) opposite the Z's RHP Doug Mathis (4-7, 3.87).
Baseball returns to Nashville on Monday, July 22nd, for Peanut Free Night at Greer, presented by the Allergy, Asthma & Sinus Center.
Box Score
Nashville Sounds (34-65) 3, New Orleans Zephyrs (49-50) 1
July 18th, 2013
1
2
3
4
5
6
7
8
9
R
H
E
Nashville Sounds
0
0
0
0
2
1
0
0
0
3
8
0
New Orleans Zephyrs
0
0
0
0
0
1
0
0
0
1
6
0
a-Struck out for Heckathorn in the 9th.
BATTING
TB: Prince; Garner; Diaz, R 2; Gennett 2; Morris, H; Davis, Ke.
RBI: Diaz, R 2 (5), Parker, S (25).
2-out RBI: Diaz, R 2.
Runners left in scoring position, 2 out: Davis, Ke 2; Morris, H 2; Seidel.
SAC: Parker, S.
Team RISP: 3-for-8.
Team LOB: 8.BASERUNNING
SB: Prince (13, 2nd base off Ames/Skipworth).FIELDING
DP: (Prince-Gennett-Morris, H).
a-Struck out for Flynn in the 6th. b-Flied out for Ames in the 8th.
BATTING
2B: Petersen (24, Seidel).
HR: Mattison (4, 6th inning off Seidel, 0 on, 1 out).
TB: Mahoney; Green, N; Mattison 4; Petersen 4.
RBI: Mattison (22).
Runners left in scoring position, 2 out: Mahoney; Smolinski.
GIDP: Smolinski.
Team RISP: 0-for-2.
Team LOB: 4.BASERUNNING
CS: Petersen (2, 2nd base by Seidel/Diaz, R).
New Orleans Zephyrs
Player
IP
H
R
ER
BB
SO
HR
ERA
Brian Flynn (L, 3-10)
6.0
6
3
3
3
4
0
3.65
Steve Ames
2.0
2
0
0
0
2
0
3.29
Josh Wall
1.0
0
0
0
0
2
0
5.04
Totals
9.0
8
3
3
3
8
0
3.69
Kroenke pitched to 2 batters in the 6th.
WP: Flynn.
HBP: Petersen (by Wooten).
Pitches-strikes: Seidel 80-50, Kroenke 8-5, Olmsted 17-13, Heckathorn 12-8, Wooten 8-4, Flynn 97-62, Ames 32-22, Wall 14-8.
Groundouts-flyouts: Seidel 0-5, Kroenke 0-0, Olmsted 0-2, Heckathorn 2-1, Wooten 1-0, Flynn 8-2, Ames 1-2, Wall 0-1.
Batters faced: Seidel 20, Kroenke 2, Olmsted 4, Heckathorn 3, Wooten 3, Flynn 27, Ames 8, Wall 3.
Inherited runners-scored: Olmsted 2-0.
Umpires: HP: Kolin Kline. 1B: Chris Segal. 2B: Jordan Baker. 3B: Jordan Ferrell.
Weather: 77 degrees, rain.
Wind: 6 mph, R to L.
T: 2:50 (1:48 delay).
Att: 4,545.
Venue: Zephyr Field.
July 18, 2013