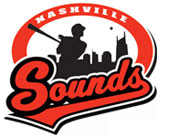 Metairie, LA – The Nashville Sounds suffered a 9-5 loss to the New Orleans Zephyrs on Friday evening at Zephyr Field, evening the series at one game apiece.
New Orleans got off to a quick start against Sounds starter Aaron Laffey, sending nine men to the plate during a three-run first inning. Jake Smolinski belted a two-run homer during the frame, his seventh roundtripper of the year.
The Sounds responded with a four-spot in the top of the second inning to take a short-lived 4-3 lead. Three of the four runs against Doug Mathis were unearned following a Kevin Kouzmanoff throwing error.
Kentrail Davis (2-for-5) ripped an RBI single during the inning to extend his hitting streak to six games with Nashville; the outfielder has hit safely in each of his games with the club since a promotion from Double-A Huntsville.
The Zephyrs leveled the contest at 4-4 in the bottom of the second when Gorkys Hernandez led off with a triple and scored on a sac fly before pulling ahead  in the fourth with a pair of unearned runs off Laffey resulting from a pair of Sounds errors in the frame.
New Orleans extended its lead to 7-4 in the fifth on Nick Green's solo homer, the infielder's fifth big fly of the campaign.
The Sounds got a run back in the seventh against reliever James Leverton when Blake Davis scored on a two-out Robinzon Diaz single, but New Orleans once again answered a Nashville rally with one of its own in the bottom of the frame, plating two runs against Jesus Sanchez on Hernandez's two-out single to right.
Mathis (5-7) picked up the victory with a quality start for the Zephyrs, allowing one earned run (four runs total) on four hits while striking out seven during his six innings of work. Laffey (4-4) drew the loss for Nashville after giving up six runs (four earned) in his four frames of action.
The teams continue the series with a 6:00 p.m. meeting on Saturday night. Right-hander Johnny Hellweg (7-4, 2.82) will make the start for Nashville and face New Orleans left-hander Duane Below (5-3, 2.39).
Box Score
New Orleans Zephyrs (50-50) 9, Nashville Sounds (34-66) 5
July 19th, 2013
1
2
3
4
5
6
7
8
9
R
H
E
Nashville Sounds
0
4
0
0
0
0
1
0
0
5
6
3
New Orleans Zephyrs
3
1
0
2
1
0
2
0
x
9
13
1
a-Walked for Lowe in the 7th.
BATTING
TB: Prince; Diaz, R; Davis, B; Davis, Kh; Davis, Ke 2.
RBI: Davis, B (23), Gennett (21), Davis, Ke (2), Diaz, R (6).
2-out RBI: Davis, Ke; Diaz, R.
Runners left in scoring position, 2 out: Morris, H.
Team RISP: 3-for-9.
Team LOB: 6.BASERUNNING
CS: Davis, Ke (1, 2nd base by Mathis/Hill, K).FIELDING
E: Diaz, R (1, fielding), Prince (7, throw), Davis, B (15, throw).
a-Struck out for Albaladejo in the 7th.
BATTING
3B: Hernandez, Go (4, Laffey).
HR: Smolinski (7, 1st inning off Laffey, 1 on, 1 out), Green, N (5, 5th inning off Lowe, 0 on, 1 out).
TB: Jensen 2; Valaika; Kouzmanoff; Smolinski 5; Mahoney 2; Green, N 6; Hernandez, Go 4.
RBI: Smolinski 2 (23), Green, N 2 (18), Valaika (1), Kouzmanoff (21), Hernandez, Go 2 (18).
2-out RBI: Green, N; Hernandez, Go 2.
Runners left in scoring position, 2 out: Mathis 2; Kouzmanoff; Valaika.
SF: Valaika; Kouzmanoff.
Team RISP: 3-for-8.
Team LOB: 9.FIELDING
E: Kouzmanoff (2, throw).
Nashville Sounds
Player
IP
H
R
ER
BB
SO
HR
ERA
Aaron Laffey (L, 4-4)
4.0
6
6
4
3
7
1
5.50
Johnnie Lowe
2.0
2
1
1
0
2
1
4.26
Jesus Sanchez
2.0
5
2
2
0
2
0
2.16
Totals
8.0
13
9
7
3
11
2
4.57
HBP: Hernandez, Go (by Laffey).
Pitches-strikes: Laffey 78-47, Lowe 28-17, Sanchez, Je 38-28, Mathis 99-59, Leverton 12-5, Albaladejo 7-4, Reifer 7-5, Hatcher 12-8.
Groundouts-flyouts: Laffey 1-5, Lowe 3-1, Sanchez, Je 0-3, Mathis 6-4, Leverton 0-1, Albaladejo 0-0, Reifer 1-1, Hatcher 1-0.
Batters faced: Laffey 23, Lowe 8, Sanchez, Je 11, Mathis 25, Leverton 4, Albaladejo 2, Reifer 3, Hatcher 4.
Inherited runners-scored: Albaladejo 2-1.
Umpires: HP: Chris Segal. 1B: Jordan Baker. 2B: Jordan Ferrell. 3B: Kolin Kline.
Weather: 85 degrees, partly cloudy.
Wind: 4 mph, In from CF.
T: 2:57.
Att: 9,142.
Venue: Zephyr Field.
July 19, 2013