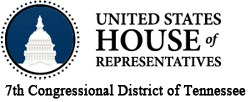 Washington, D.C. – Congressman Marsha Blackburn (R-TN) has introduced legislation to delay Obamacare for one year. H.R. 2809 would delay all provisions of the Affordable Care Act taking effect on January 1st, 2014 or later by one year from the date of enactment.
Additionally, this bill would delay all Obamacare taxes by one year.
Blackburn's legislation builds on efforts in the House last week to delay both the individual and employer mandates. Co-sponsors include Representatives Andy Harris (R-MD); Mark Meadows (R-NC); Tom Price (R-GA); Joe Wilson (R-SC); and Kevin Yoder (R-KS).
"Through our investigation at the Energy and Commerce Committee and the feedback I get from businesses and families in Tennessee on a daily basis, I have seen just how frustrated people are with the impact Obamacare is having on their lives. It has become very clear that this law is completely unworkable," Blackburn said. "With their recent decision to delay the employer mandate it appears that even the Obama administration now recognizes what the rest of the country already knows: Obamacare is a train wreck.
"As I continue my fight to fully repeal Obamacare and replace it with solutions that will actually work for the American people, this legislation is the right step to take. In fairness to hard-working American taxpayers the best thing we can do right now is to delay for one year and continue to chip away at this disastrous law."