Columbia, MO – Austin Peay State University men's golf team could not maintain its second-round momentum, but still finds itself in second place after Day 1 of the Columbia Regional Preview, being played at The Club of Old Hawthorne.
The Governors, who shot an opening-round 2-over 290 to sit in a first-place tie, ended the second round at 8-under for a 570, leaving them in second place behind host Missouri (290-272-572=562) in APSU's opening tournament.
However, with five holes to play, the Governors sat minus-12, before losing four shots to par in closing the round.
The Governors are ahead of Big 12 entrant Iowa State by seven shots (577) while San Francisco is at 579 as the only other teams below 580.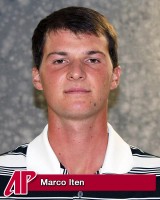 All four Austin Peay counters—seniors Marco Iten, Anthony Bradley, Trey Tarpley and sophomore Chris Baker—came in at 2-under in the second round. The Govs' fifth man, sophomore Austin Kramer, shot even-par 72.
Overall, Iten is tied for fourth at 3-under 141 (71-70) while Bradley is one shot back (72-70=142). Baker is 1-under (73-70=143) while Tarpley is at even par (74-70=144) at Kramer is 3-over (75-72=147).  Missouri All-American Emilio Cuartero has a four-shot lead going into the final day after shooting 135 (68-67) on the par-72, 7,221-yard layout.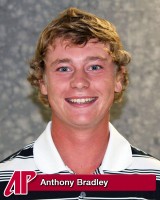 "It was just a solid, solid performance by our guys today," APSU coach Kirk Kayden said. "I was pretty proud of them. We had it down to 12-under at one point and had we been able to finish with some solid pars, we had a chance to have a really, really good round.
"Across the board it was a wonderful day. We are ahead of a lot of quality teams. When you have four guys shooting 70 and you have to throw out an even par, you can't ask for anything more."
Old Hawthorne is slated to be a host for an NCAA Regional during May and this is the third time during the last two years the Governors have played the course.
"The course was in great shape and it is up to the test," Kayden said. "It will be a great NCAA Regional in the spring. In fact, a front came through in the morning and it was a little dreary this morning with the temperatures in the low 60s with a strong wind—it felt like college golf out there. Things finally cleared off in the afternoon and you can tell by the scores how the conditions improved."
All five qualifiers and individual, Tucker Wallace (who shot 77-74-151) have experience on Old Hawthorne, but Hayden especially was pleased with senior Tarpley, who endured a struggling spring after being an integral part of the Govs' successes during his sophomore season.
"It was really good to see Trey play well today," Kayden said. "It was great comeback after last spring and a positive start to his senior season."
The Governors will be paired with Missouri and Iowa State, Tuesday. Kayden hopes his Govs can repeat Monday's effort in the final round.
"We just need to continue doing what we have been doing," Kayden said. "We have them focusing on just concentrating on the golf course. You have to take advantage of the par 5s out there and play smart on the par 3s. They did that today and if we do that tomorrow we will able to compete with them."
Box Score
Columbia Regional Preview
The Club at Old Hawthorne
Columbia, MO
Championship Tees
Dates: September 16th-17th
| | | | | |
| --- | --- | --- | --- | --- |
| Currently | School – Players | Round 1 | Round 2 | Totals |
| 2 | Austin Peay State University | 290 | 280 | 562 |
| T 4 | Marco Iten | 71 | 70 | 141 |
| T 9 | Anthony Bradley | 72 | 70 | 142 |
| T 12 | Chris Baker | 73 | 70 | 143 |
| T 15 | Trey Tarpley | 74 | 70 | 144 |
| T 24 | Austin Kramer | 75 | 72 | 147 |
| | | | | |
| T 42 | Tucker Wallace | 77 | 74 | 151 |