Clarksville, TN – Fifth-year senior running back Tim Phillips is looking to make the most of what he calls a second chance this season with the Austin Peay State University football team and prove that he has what it takes to possibly play at the next level.
Phillips, who played for one of the best high school programs in the nation at Trinity High School in Louisville, KY, transferred this past summer after spending the last four years at Central Michigan University – the same university as first-year head football coach Kirby Cannon.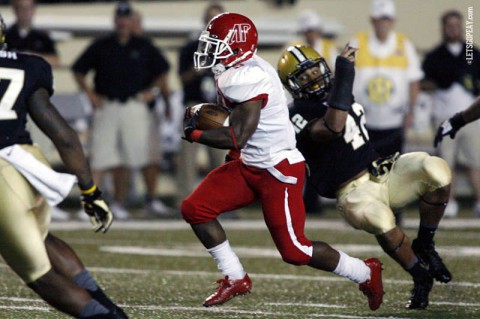 "My freshman year I was a part of the team that won the conference title in the Mid-America Conference and won our bowl game," Phillips said. "Then last year we won the Little Caesar's Bowl, so there was a little success there, but I wasn't a part of it the way I would have liked to have been. Now I've been given an opportunity to contribute a little bit more.
"To be honest it was the Lord opening a door, it really was because he knew the desire that was in my heart and I talked with coach Cannon and he knew where I wanted to be as far as playing football and being able to contribute as a senior and possibly making it to the next level. Coach Cannon knew want I wanted to do and he just gave me the opportunity to do that. I thank him for the opportunity."
During his stay with the Chippewas, Phillips was slowed by injuries – redshirting a year – as well as having to deal with a change with an offense scheme that really didn't match his style of running.
Overall, Phillips played in just 18 career games at CMU and rushed for 289 yards, but started two games in 2011 versus Western Michigan and Michigan and rushed for career-best 84 yards — including 28-yard TD run — against WMU.
"Tim and I had a good relationship while we were at Central Michigan and I used to kid him about coming over and playing corner for me, but he's a touchdown maker, so he stayed a running back," Cannon said. "He called me up at the end of spring ball and after their end of year evaluations and was pretty forthright in just saying that his idea for his senior year wouldn't be having three or four carries a game and be used in special situations.
"So he was contemplating a transfer and at that time I requested his release – which Central Michigan gave us – and then Tim had to make the decision of what he wanted to do. He's from Louisville, KY, he had a relationship with me and he knew we were in dire need to increase our talent pool here and he called me and said he was coming and I celebrated."
Phillips came in and had already made an impression on the team, being named one of the team captains after just a couple of weeks of working out in fall practice.
"I've settled in pretty good," Phillips said. "The guys have welcomed me and I give all the glory to God for that.
"I could have come in and not be accepted and be turned away, but the guys have shown me some good southern hospitality. I thank these guys for showing me what it is to be a Governor."
On the field, Phillips had already shown some of what he is capable of through the Govs first three games by leading Austin Peay in rushing yards and total offense, while also scoring the Govs lone touchdown of the season versus Chattanooga on September 14th and setting up APSU's other score with the longest play from scrimmage so far by the Govs – a 48-yard run versus Vanderbilt University on September 7th.
"I got up to Central Michigan right after his freshman year," Cannon said. "He had redshirted that year, but had always shown flashes of brilliance. He's always had moments where you thought he's a special, special player.
"I want to rebuild this thing (football program) and he's a great example of just what we want out of our players – a good student, an excellent citizen, a great teammate – and he practices as hard as anyone I've ever seen and he brings all of that to the table, besides being a productive player on the field."
But for Phillips, the solid start to the season – the second chance – is hopefully a stepping stone to something bigger down the road.
"The Lord knows I want to get to the next level, that's has been my dream since I was a little boy – playing football on the big-time stage – but if that doesn't work out I know the Lord will have something better for me to do," he said. "I finished my undergraduate work chemical engineering technology, but I want to stay sports related and work for someone like Nike or adidas in apparel or equipment, but if that doesn't work out I would love to work for GM or Ford, something along that line."